For few years, Qualcomm was quite consistent with its naming for its Snapdragon 8xx series flagship processors. Since 2017 (Snapdragon 835), it was constant until the Snapdragon 888 SoC release last year.
The rumor about Qualcomm preparing to release its next-generation Snapdragon chip (i.e., Qualcomm Snapdragon 865) was first spotted by a Chinese website called GizChina. It's rumored that it will come after the chip is featured in a new Lenovo phone while it will be released next year.
The upcoming Qualcomm Snapdragon 895 SoC is based upon 4nm chipset fabrication technology, bearing cores customized from the ARM Cortex v9 generation. The tip comes courtesy of noted tipster Ice Universe, who cited one of Lenovo Mobile's exclusive in China to state that the next-generation flagship chipset will use TSMC fabricated cores instead of giving the chip order to Samsung.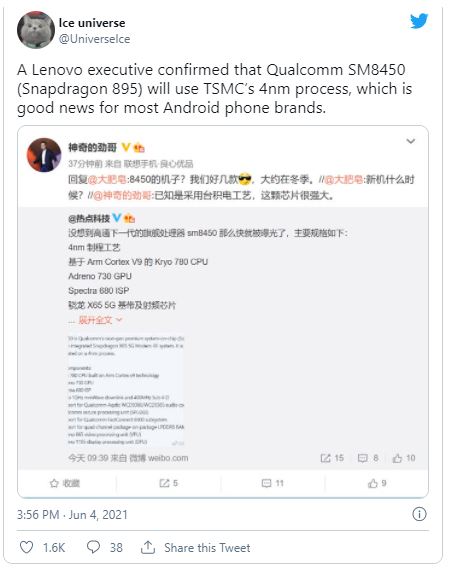 It is built as one of the necessities due to the heating issues that Samsung's 5nm cores onboard the Snapdragon 888 cause, which led to the Taiwanese chip giant TSMC being called upon to help fix it. At the same time, the heating issues have not been as pronounced as what Qualcomm has faced before.
In 2015, Qualcomm went through a phase of notoriety when its TSMC-based flagship SoC, the Snapdragon 810, led to widespread reports of severe CPU throttles and overheating issues. While Qualcomm continued a stage of the initial denial, there were eventually too many media reports to ignore. Ironically, though, the Snapdragon 810 was based on TSMC's 20nm processor, which many blamed for the overheating issue of that chipset.
Now, however, things appear to have changed. It is blamed that the heating and throttling issues on the Qualcomm Snapdragon 88 are due to the Samsung 5nm processor. Some reports state that the chipmaker urgently pushed a second flagship-grade chip- the 7nm Snapdragon 870, which is almost good for all reasons.
The upcoming chip Snapdragon 895 is speculated to feature 4nm Kryo 780 cores, custom-built on ARM Cortex v9, the XG5 5G modem, and the Adreno 730 GPU.
Qualcomm is needed to focus on a secure modem platform as it led to a major compromise reporting to have significant security flaws. Much attention has already been sought after an announcement of this chipset as it will have one eye over its shoulder on AMD's newly announced RDNA graphics chip for smartphones.
Also Read:
Qualcomm Snapdragon 895 Specifications
A famous blogger Evan Blass has tweeted about all the essential elements of the Snapdragon 895.
SM 8450 is Qualcomm's next-gen premium system-on-chip (SoC). It has an integrated Snapdragon X65 5G Modem-RF system. It is fabricated on a 4nm process.
Kryo 780 CPU built on Arm Cortex v9 technology

Adreno 730 GPU

Spectra 680 ISP

Up to 1GHz mm-Wave downlink and 400MHz Sub-6 D

Support for Qualcomm Aqstic WCD9380/WCD9385 audio codec

Qualcomm secure processing unit (SPU260)

Support for Qualcomm Fast Connect 6990 subsystem

Support for quad-channel package-on-package LPDDR5 RAM

Adreno 665 video processing unit (VPU)

Adreno 1195 display processing unit (DPU)
Qualcomm Snapdragon 895
An official announcement of the release date is yet to come as there are still a few months left, but as per the past years, we can believe that Qualcomm could announce the Snapdragon 895 later, probably in December this year. At the same time, Lenovo may also take a chance to promote their new flagship.
| | |
| --- | --- |
| Qualcomm Chipset | Launch Date |
| Snapdragon 895 (SD895) | December 2021 (Expected) |
With the release of Qualcomm's new chipset, the upcoming phones in 2021 may be equipped with a 5G modem.
You may also see Xiaomi Mi 11, Vivo Y53s and Oppo K9 5G.
Disclaimer: We are not 100% sure of the launch date mentioned above.