Nepal has witnessed a rise in the number of online service providers for a decade, and it is continuing to rise. They all provide their service through their website. And yes, the number of hosting companies is also shooting up. However, with the upsurge in the number of hosting companies, scrupulous website owners have a tough time choosing the best web hosting provider in Nepal.
In our mission to help you make a better decision, we always try to drop your confusion to some extent and help you choose the best. In this article, we are making you get the concept of web hosting, the criteria of a good hosting provider, and the top ten best web hosting providers in Nepal.
After buying a hosting package, if you are planning to buy a domain. Then, it's profitable and reliable to take a .com.np domain for free.
What is web hosting?
Web hosting is an online service that lets organizations and individuals publish a website or web page onto the internet by providing necessary infrastructures. In simple words, web hosting is a computer where people or organizations store their websites.
A web hosting company is a company that rents its servers or computers to store the website of an individual or organization and provides an internet connection so that the user can access your website and its content.
After the web hosting company provides you the service, your website is stored or hosted on special computers called servers. When a user with an internet connection wants to view your website, they can type the website address or the domain into their browser. The user computer will then connect to the server, and the server delivers the web pages to the user through the browser.
What makes a hosting provider good?
Many hosting companies have started their service in Nepal, but choosing the best one may not be easy. To have a successful business, one must select the best web hosting service. So here we provide you some criteria that a good web hosting must have to give a better service to both the owner and the users.
But before starting, you should always know what services and features you want from the service provider. Features provided by the web hosting company differ from each other and costs accordingly.
Below are some of the things to consider that makes a hosting provider good:
Uptime
One of the most important things a good web hosting company should have is its Uptime; it is also known as availability. It is the measure of the percent of the time your website is up and available to visitors. More closer to the 100 percent uptime, the better. A good web hosting company will deliver a high percentage of Uptime.
Loading Speed
Another critical factor for good web hosting is the speed at which your website loads and functions. A slow loading site loses visitors and affects the ranking of the website.
Data Security
Security is most important when you are working with technology, and it is also a major concern in web hosting. A good web hosting company uses standard security measures against cyberattacks.
Customer Support
Whenever you need support from the server, a good hosting company should always offer live support.
Payment methods
If you are hosting an e-commerce site or your site has e-commerce functionality, the customer's personal and payment information should be a big concern. For this, a hosting company should support Single Socket Layer (SSL) or Transport Layer Security (TLS).
Scalability
It is an advanced feature where a hosting company can scale up and scale down the performance according to the demand.
Bandwidth
Apart from the speed, bandwidth is another crucial feature of good hosting. Bandwidth in website hosting is the volume of data your website can transfer to the visitor of your website in a given amount of time. To have more bandwidth means that more website data can move at one time.
The amount of bandwidth your website has determined how fast your website can deliver its content to your visitors during peak traffic times. Another critical thing to know is that often hosting companies advertise their service as unlimited bandwidth, but in reality, there is no such thing as unlimited bandwidth. Just because under regular use, the sites on the shared server never use all the available bandwidth; they prefer to say it as unlimited bandwidth to appeal to the customers.
cPanel
cPanel is a popular Linux-based control panel for web hosting accounts that lets you manage services in a single place. It enables you to manage your web hosting account with maximum efficiency. Installing WordPress, managing domains, and billing accounts are easy via cPanel.
Storage space
The web hosting company provides various storage options depending on your requirement. A single-page website may need less storage compared to multipage websites. So, it is essential to know the amount of storage your website needs to make the decision easy and correct.
Monthly traffic
Some of the hosting company provides service with monthly traffic limit. So after you have reached the limit, it will stop displaying your website or charge an additional fee for the extra visitor. So, it is always better to talk about it in detail before choosing the best web hosting company.
Email:

A good web hosting company should provide good working email support to provide the service according to the requirement.

Transfer of existing websites:

If you are a starter, you may not need to worry about the transfer. But if you have an existing website and want to transfer it to the new web hosting service, a good hosting company should do it.
Ease of use
A good hosting server should be easy to use to update your content on the website and manage it. Otherwise, you may require a technician to get the job done, which costs you an extra penny.
Compliance
Your web hosting company should assure you of how it will protect the data collected by your website. It should be clear about the data encryption, SSL certificate support, and the hosting platform's security.
List of Top 11 Web Hosting Company in Nepal
On the basis of pricing, their services, and features, we have listed the top eleven web hosting companies in Nepal below:
Nest Nepal (Best Among All; Our Recommendation)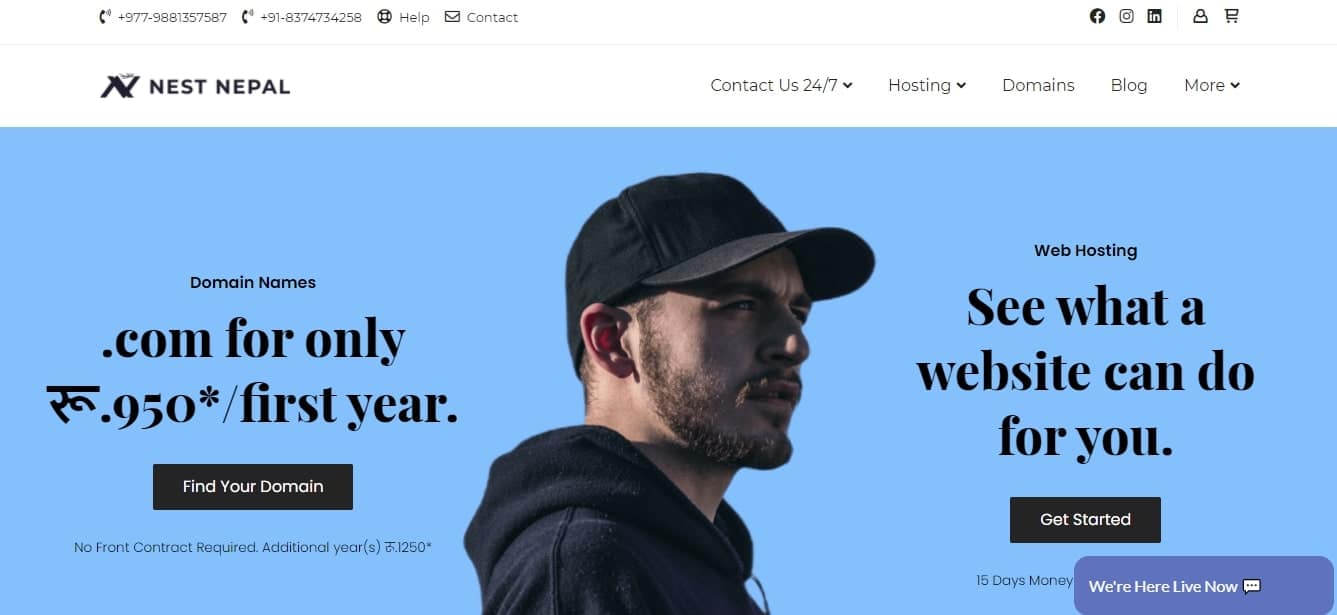 Nest Nepal provides web hosting facilities and other hosting services such as WordPress hosting, Blog hosting, or Online Store hosting. It has a qualitative service and is affordable as well. After reviewing many of the hosting companies in Nepal, we are glad to find Nest Nepal as one of the best web hosting provider in Nepal.
Features
VPS Hosting
Domain Registration
WordPress Hosting
Email Hosting
Dedicating Hosting
Litespeed Web Server
Free Cpanel
Free Website Migration
24/7 customer support
Pricing
The shared hosting plan has a price of NPR 1,399 per year, suitable for bloggers and developers. Similarly, the dedicated hosting costs you NPR 1,099 per month; it is suitable for optimum performance of the business websites. Finally, for the reseller hosting plan, its price is NPR 750 per month.
You also save 20% on your price in all the hosting plans if you choose the plan for three years.
Himalayan Host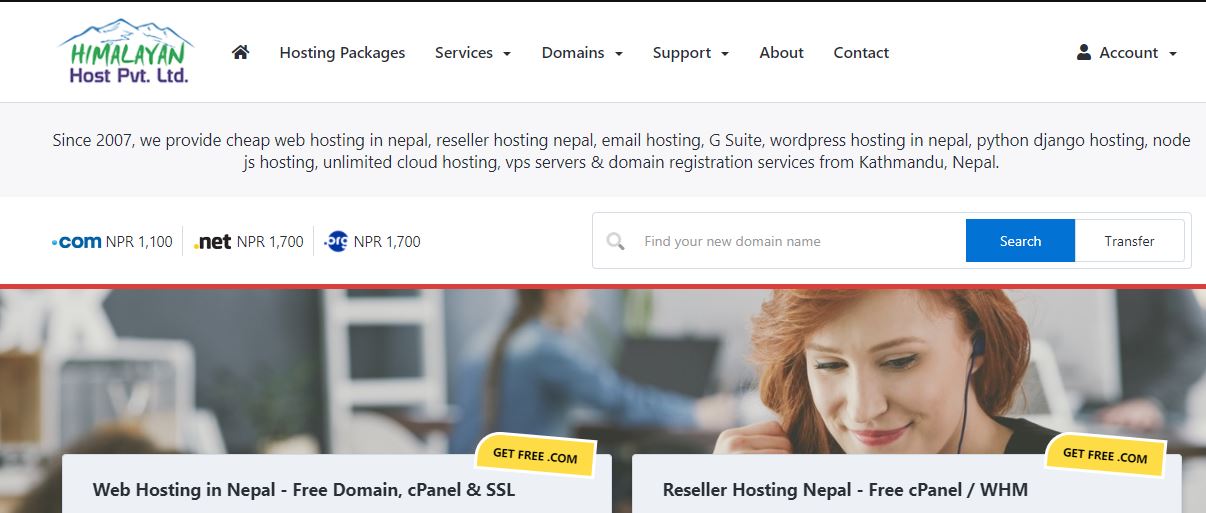 Himalayan Host has been serving in the web hosting sector of Nepal since 2007. It also has started a cloud web hosting service.
Features
Cloud hosting

cPanel Reseller hosting

Direct Admin Reseller Hosting

VPS Hosting

Dedicated servers
Pricing
The starting price of web hosting in Nepal with free Domain, cPanel, and SSL is NPR 85.08 per month and goes up to NPR 15,000 per year for a high traffic web portal.
Babal Host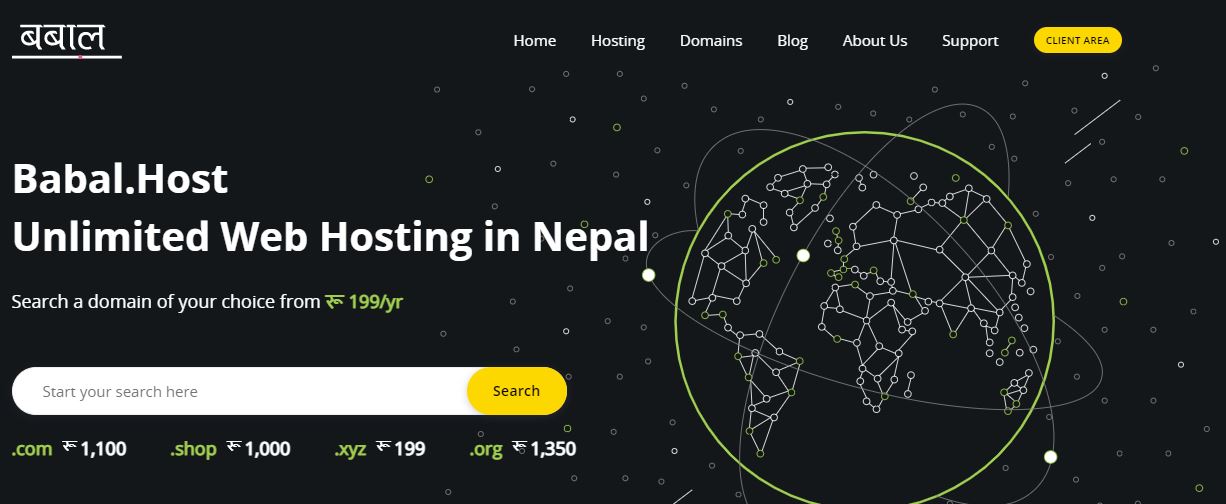 Babal Host offers SLA on all the plans and provides a free month of service if the uptime decline below 99.9%.
Features
Unlimited hosting

Cloud Server

Cloud Reseller Hosting

WordPress hosting

Node.js Hosting

Python Hosting

Domain Registration

G Suite- Google
Pricing
The single unlimited package costs NPR 1,499 per year, while the Babal unlimited package has the price of NPR 2,999 per year. Likewise, cloud server hosting has the starting price of NPR 10,310, whereas ultra-hosting with a cloud server costs NPR 72,937 per month.
AGM Web Hosting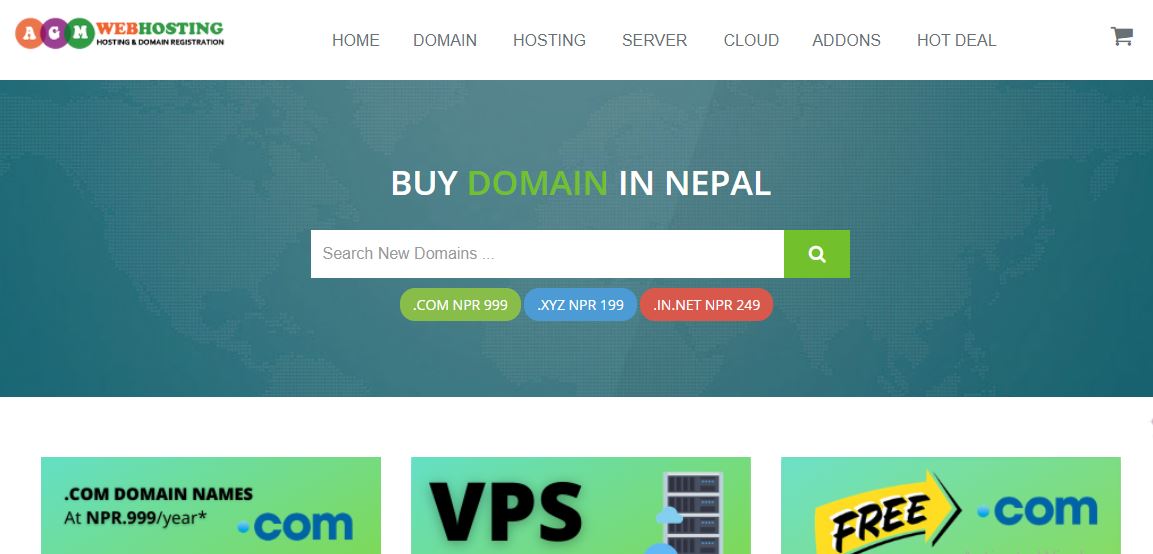 AGM Web Hosting activates the service within 30 minutes after making the payment. As per the information on the official website of the AGM Web Hosting, it has an award won for the Great Uptime acknowledged by HostAdvice.
Features
Linux Hosting

Windows Hosting

Reseller Hosting

WordPress Hosting

Domain Registration services

Control Panel

Website backup

100% SSD Drives

Add-On Services

Anti-Spam Email Filtering

Latest PHP and MySQL

Great Uptime
Pricing
The starting price is NPR 699 per year for the Startup Linux Hosting, and it has the price of NPR 1,399 per year for single domain hosting.
Visit AGM Web Hosting

Prabhu Host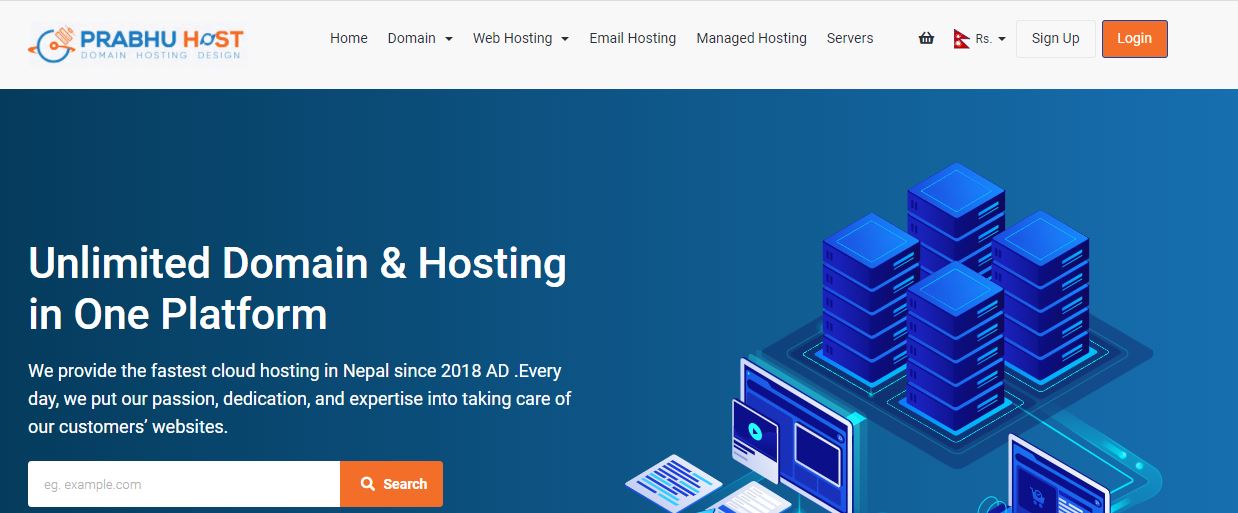 Prabhu Host started its service in 2018 in Nepal. All the cloud web hosting plans have inbuilt cPanel control, cloud Linux, daily backup, free SSL, WordPress optimized, email, and FTP.
Features
Domain Registration

Cheap domain hosting

Reseller hosting

Unlimited hosting

Email Hosting

Cloud hosting VPS server

Dedicated server

cPanel in all the web hosting

Unlimited Sub Domains, FTP Accounts

Unlimited Disk Number of the website with Bandwidth
Pricing
The introductory pricing for the startup package is NPR 1,000 per year, and it goes up to NPR 4,000 per year as a Business package.
Web Host Nepal

Web Host Nepal is a domain, web hosting, streaming, VPS, and Reseller service provider in Nepal. It is also awarded "Best Customer Service" in 2019 by Host Advice.
Features
Lightning Fast

cPanel Included

Reliable Support

Free SSL Certificate

Free Migrations

Secure Shell Access

Easy Upgrade

Enhanced Security

SHOUTcast hosting

Multi-domain hosting

Reseller hosting

Cloud Hosting

Linux Cloud VPS

Windows Cloud VPS

Dedicated Server

NodeJs Hosting

Python Hosting
Pricing
The primary web hosting plan starts with NPR 1000 per month, while unlimited web hosting has the price of NPR 8,000 per year for a single domain.
eHosting Server


eHosting Server has been providing its web hosting service in Nepal since 2010. It is also one of the cheapest web hosting service providers in Nepal.
Features
Cloud hosting

SEO hosting

Linux VPS hosting

Reseller hosting

News portal hosting

Email hosting

CloudLinux OS

cPanel

Litespeed

Domain Registration
Pricing
eHosting server has the basic package with the price of NPR 700 per year, whereas the price is NPR 7,000 per year for the maximum package that hosts unlimited domains.
Gurkha Host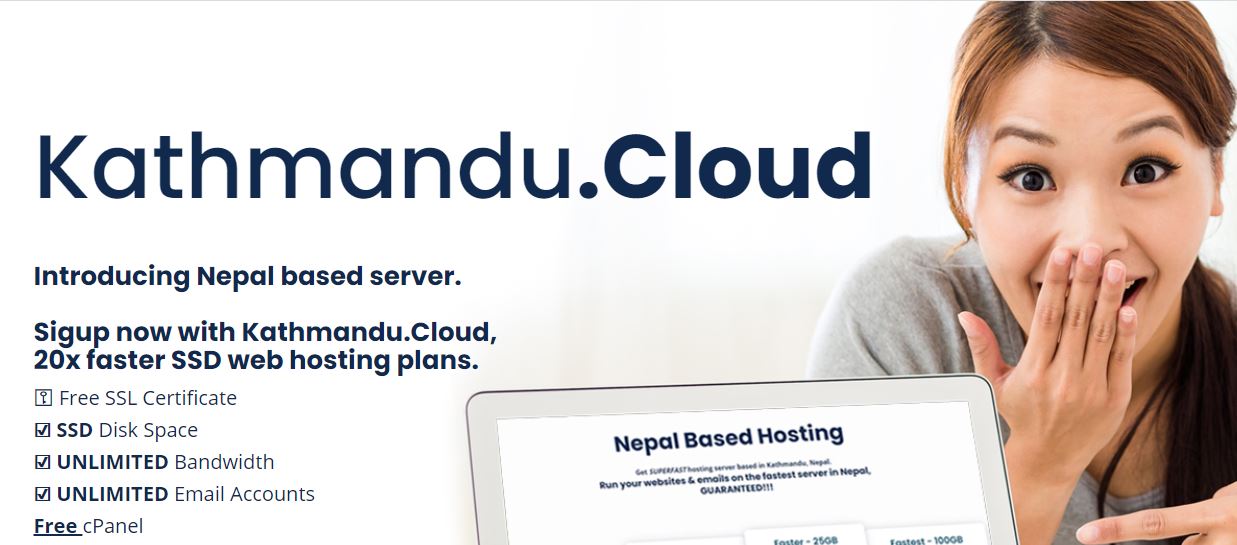 Gurkha Host started its service in 2017 intending to create a better hosting company in Nepal. It has more than 13,000 customers from 23 countries worldwide, including Nepal.
Features
Domain Registration

Web Hosting

Cloud VPS

Reseller Hosting

Security and SSL

99.999% uptime

24/7 worldwide support

Lightning-fast servers

Free cPanel
Pricing
Gurkha Host has a very cheap starter package with NPR 50 per month as the economic package, while the highest price is NPR 1,499 per month for the Enterprise package.
CrazyHost Nepal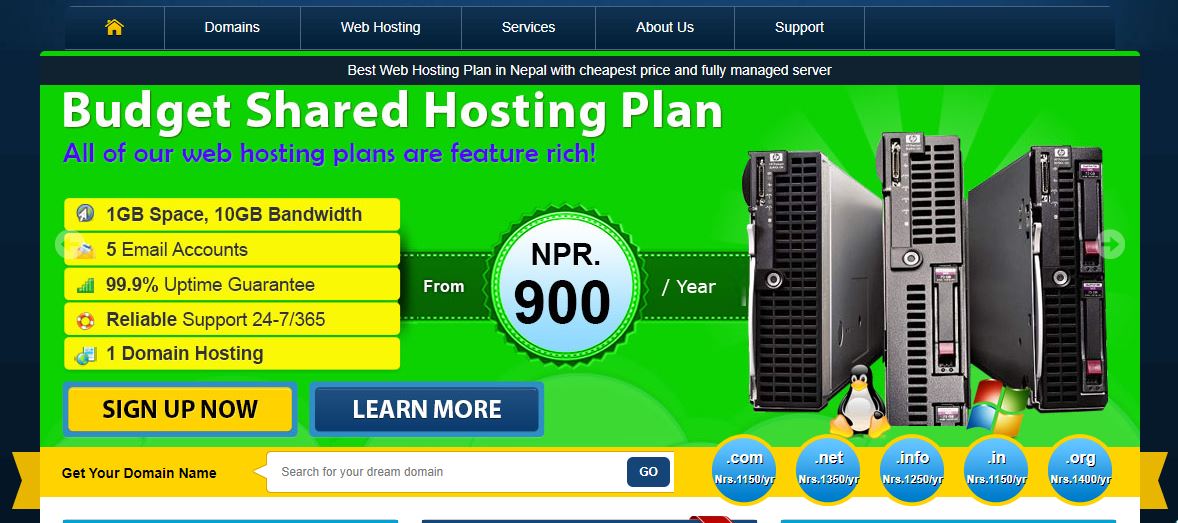 CrazyHost Nepal is operating in Nepal since 2012. It is the major product brand of E-PRIMA Technology Pvt. Ltd. – an information technology company in Nepal.
Features
Premium SSD hosting

Windows hosting

Unlimited Google Cloud hosting

Dedicated Server

VPS hosting

DigitalOcean Cloud Hosting

cPanel with multi-language control panel
Pricing
CrazyHost Nepal offers Premium cPanel based web hosting for NPR 700 per year. On the other hand, the premium reseller hosting has the price of NPR 8,500 per year.
Mercantile Communication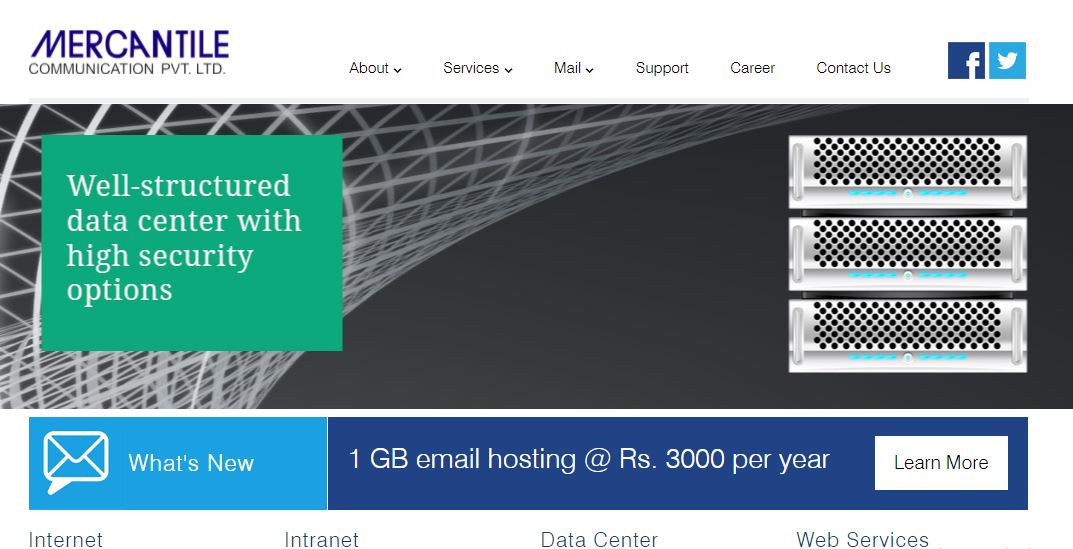 Mercantile Communication has more than 16 years of experience in web hosting in Nepal. It is also considered the best web hosting administrator in the hosting industry. It has a server based on Nepal and the US, and you can choose any from the option
Features
Free .com.np domain register

Affordable web services

Email and telephone support

VPS hosting
Host Mero


Host Mero is one of the best web hosting providers for Bloggers. The hosting company also provides other services like branding and designing, digital marketing, and website design and development.
Features
Domain Registration

Unlimited hosting

Premium hosting

Cheap shared hosting

Optimized cloud SSD hosting

News portal hosting

Reseller hosting

WordPress hosting

Cloud VPS

Dedicated Server

Digital Ocean Cloud VPS
Pricing
Host mero has a hosting plan starting at NPR 100 per month.
How safe is web hosting in Nepal?
A safe web hosting is vital if you own an online store or host any website that has to deal with private information. Thus, VPS (Virtual Private Server) hosting or dedicated servers are considered the most secure hosting. Some security features like SSL certificates, spam filters, CDNs, firewalls, and attack protection are offered by almost all web hosting companies in Nepal.
To sum up, almost all web hosting companies in Nepal have adopted some safety measures while some have really good security services.
Drawbacks of Webhosting provider in Nepal
Despite the convenience and affordable web hosting service in Nepal, they also have drawbacks, making hosting a grueling process. Those web hosting companies who advertise their service do not maintain professionalism after becoming their customers. Sometimes, they also take time to respond to your problems.
On the other hand, other countries have already made cloud hosting their priority, but only a few hosting companies in Nepal have adopted it. Also, there are not enough data centers in Nepal; however, Worldlink is building 14 new data centers in Nepal.
If we look at the bright side, the web hosting service is easily accessible, but we still have to compromise with the available services.
Verdict
Apart from the above list, there are numbers of hosting companies that may meet your requirements. Since we have also mentioned some of the criteria for a good hosting company, you may now be capable of making a better decision.