The latest innovation in Information Technology is Digital payment which is an online payment through the wallet. It is a global trend, and Nepal cannot remain unaffected by it. While Nepal is still miles behind in building a cashless society, there have been efforts by the government and the private sector to get this done. Now, there are many digital online payments or mobile wallet platforms/gateways in Nepal. Also, Government has opened up the stairways towards online transactions using International prepaid dollar cards in Nepal.
What is a Digital wallet?
A mobile wallet or e-wallet, known as a digital wallet, is an online payment gateway that allows one to complete their economic activity or transactions with just a few clicks and a swipe. After doing simple registration steps, you can make such transactions via the internet, SMS, or mobile app. It also collects payment information and can be used when conducting electronic transactions.
One can receive money or make payments in transactions made through the funds loaded into that wallet or through the user's linked bank account. As the name suggests, the digital wallet stores the amount of money that you can pay online for its various services. Digital payment is, in fact, a cashless economy gateway.
Background of Digital Wallet in Nepal
The concept of digital payment service providers began in 1990 in Nepal with the introduction of the Nabil Bank credit card. Kumari Bank launched online banking in Nepal, which became a part of people's lives. And now the same is the case with the digital wallet too. The idea of mobile/digital wallet was started by F1 Soft International, which launched eSewa in 2009.
Since the introduction of eSewa, Nepal has experienced a complete revolution in the world of digitalization. Since then, many more digital wallets have appeared in Nepal today. Each digital wallet is unique and full of services in its way.
In Nepal, there are currently 18 digital wallets operating. As a Payment Services Provider (PSP), they have many payment options such as mobile top-ups, utility payments, bill payments, financial payments, business payments, fund transfer, ticketing options, and many more.
Best Digital Wallets in Nepal
| | |
| --- | --- |
| S/N | Digital Wallet |
| 1 | eSewa – Best in Overall |
| 2 | Khalti – Best for Beginners |
| 3 | IMEpay – Best for Mobile |
| 4 | PrabhuPay – Best for More CashBack |
| 5 | MoRu – Best for Bank transfer |
| 6 | I-Pay Nepal – Best for Security |
E-Sewa – Best in Overall
E-Sewa is Nepal's first online payment gateway launched in 2009 and developed by a well-liked software company F1 Soft International. Nepal Rastra Bank licenses it as a Payment Service Provider (PSP).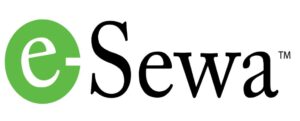 Popularity: It has the largest group of users as it is expanding its services by covering almost every sector to pursue its goal to create a cashless economy. It is already able to take advantage of the digital wallet, as it has the largest base ever in the country with 4 million (more than 100,000 active users). In addition, this digital wallet is capable of creating a network of 150,000+ merchants, 50+ partner banks, and 105,000+ POS service agents.
Services: They worked with popular online shopping retailers to make their customers' lives easier. It offers the service like utility payments, movie and flight ticket bookings, Merchant payments, fee payment, insurance premium payment, Government tax payments, Digital remittance, and many more.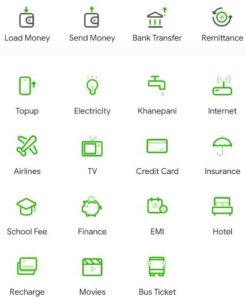 App Design: The UI / UX has been redesigned to make the eSewa app better and easier to use than ever before. Everything is there. It's very organized and effortless on the eyes. Recharge your wallet directly from your bank, eSewa dealer, or eSewa. eSewa has opened its online shop called eSewa Pasal.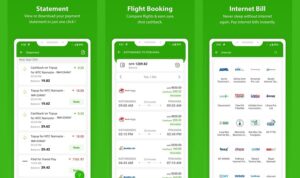 Security: For the security of user's transactions, eSewa has also included biometric verification through user fingerprints in addition to MPIN and password.
The most impressive thing about eSewa is that you can use this application even when you are not connected to the Internet. However, this feature is not exclusive to eSewa. Of course, services are limited in SMS mode, but you can still perform basic transactions like mobile top-ups, send money to other eSewa users, and more.
eSewa is the most reliable and widely used digital service in Nepal. They have great coverage, and a large number of merchants use their services. eSewa is at the forefront of the Nepalese digital lettering race. Besides that, it is an ISO 27001: 2013 certified IT company under F1 Soft International.
The platform's general popularity results from its age and a large part of the service delivery. Thus, this is the reason why eSewa has topped our list of Best Digital Wallets in Nepal.
Khalti – Best for Beginners
Khalti is considered one of the fastest-growing digital wallets in Nepal, developed by Sparrow Pay Pvt Ltd and launched in 2017. It is an emerging payment gateway and service provider. While the company has recently acquired a payment service provider (PSP) license in the second quarter of 2019 from Nepal Rastra Bank, people have been shown in this platform since its launch to tackle their payment solution.
This digital wallet aims to simplify people's lives by bringing financial inclusivity to every individual in Nepal and taking the payment industry from online to online through best practices. You can load your Khalti wallet using an account of different banks. The best technical team and the innovative actions have made, Khalti the next most preferred digital wallet of Nepal.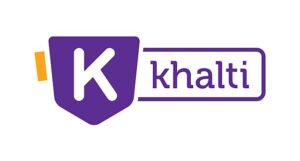 Popularity: To date, it has gained huge popularity among thousands of users. The popularity graph for this digital payment provider has gone up massively, and it continues to grow in recent times. Started by a pool of intelligent minds, it has been operating in its 4th year with 40+ banking partners, 8000+ POS and agent networks, and 130+ brightest minds. Khalti points and its quick redemption are the reason behind its huge popularity.
Services: There are various services such as utility bill payments, hotel bookings, movies, domestic flight bookings, events, etc., that Khalti has provided. It has been providing services for DTH payment, ISP payment, along other popular merchant payments. It has provided its services out of the valley as well, like paying water bills. It has provided more bonuses in airline ticketing as well. Not just that, you also have a discount of over 25% on purchasing Kaspersky anti-virus.
Khalti has also partnered with the OYO hotel chain apart from the regular services, which offers you to book more than 30 hotels from the OYO chain in Kathmandu and Pokhara. You can also pay via scan for different event tickets. You can download the Khalti app from the app store and enjoy the service of the Khalti wallet. Mostly it's popular for hotel booking and now OYO booking.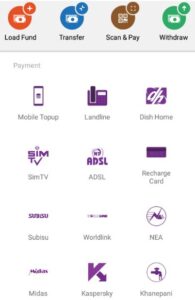 App Design: Khalti app was initially just available for web platforms and Android, but now you can download this app through IOS. In terms of good UI/UX, Khalti has been the most popular wallet having the highest rating of 4.6 in the Google Play Store.
Services provided by Khalti in every platform like Android, IOS, and web version have been equally smooth, which has truly maintained its sustainability and accountability in the digital market. Two versions are available for Khalti Digital Wallet, i.e., Merchant wallet and the Normal consumer wallet but have a different UI according to the registered system.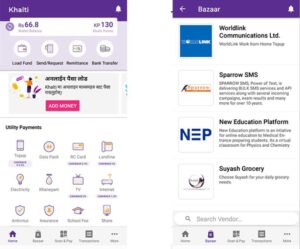 Security: Talking about security, Khalti is secure. You can protect your wallet with a 4-digit MPIN while signing in and even MPIN during every transaction. It has a biometric security option that facilitates the user to carry out their transactions with a simple touch.
In terms of security, Khalti implements a process that requires users to enter the first four characters of the Khalti password each time they access the software. It also has fingerprint security options, just like any other fingerprint wallet. 
Khalti possesses a unique feature: the first digital wallet with an open-source API for payment gateways. Khalti is popular mainly for its international recognition and CSR activities, carried out in all corners of the country to popularize digital literacy. Whether it's the "Smart Chhori" campaign or the "Khalti Quiz Campaign" and "Khalti Reward Points." Khalti knows very well how to retain customers and attract new customers online.
It has won the support of the United Nations MSMEs Fintech Innovation Fund. Also, it cooperates with international companies and institutions such as the United States Agency for International Development (USAID) and many more. Therefore, Khalti is the second choice in the list of the best digital wallets in Nepal.
IMEpay – Best for Mobile
IMEpay is a mobile money service; IME Digital Solution Ltd. provides a digital payment service. It is the first licensed company to provide a digital payment solution. It is synonymously used as IME remittance, where the sender and receiver can use this wallet to send and receive money. IME Pay is an emerging digital payment service provider which is being popular these days in Nepal.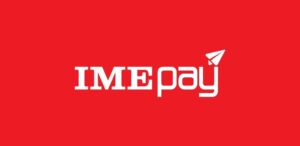 Popularity: With its wide range of 100+ banking partners (the highest among all digital wallets in Nepal), 2500+ agent networks, and with an advanced user interface, IME Pay has made it the top choice of our respondents.
Services: It offers a wide range of payment gateway for its users. Today, IME Pay is accessible in 75 districts of Nepal, and they are soon making it to 77 districts. IME Pay has other notable features besides remittance. IME Pay has been rendering the services from its mobile and web app.
The remittance, Send money, Bank Link, Utility Bill Payment, Financial Payment, Merchant Payment, ISP payment, Request Money, bus ticketing, domestic flight bookings, Reward points, and a ticket for the Chandragiri Hills Cable car. It helps you enjoy your hassle-free digital life with no queue and no penalty for delay. The interesting fact about IMEpay is that you can pay for your vehicle's fuel selecting petrol pumps using IME Pay, upon which you'll be getting Rs.2 cashback per liter.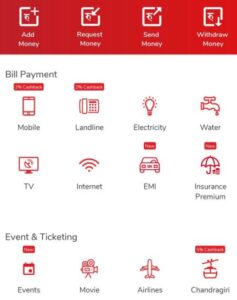 App Design: IME Pay app is available in both Play Store as well as App Store. The app possesses a simple and straightforward design. The app is divided into 5 sections that include the "Scan QR Code" area, and the other 4 share the same visual experience. The "Profile" section implements a slightly different design pattern, which is on the far right. The font is erratically and unnecessarily different and large.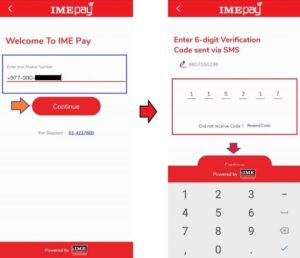 Security: IME Pay has implemented fingerprint support for the added security.
This very app has the following three features that make it stand out amongst other digital wallets:
IME Pay is the first and only digital wallet in Nepal to accept all types of QR payments like Smart QR, FonePay, Union Pay, and IME Pay itself.
They have a unique point reward system with Silver, Gold, and Platinum membership with added privileges.
It has its Super Wallet feature, where you can earn interest on the amount loaded in your IME Pay account. For that, one must verify their KYC and maintain a balance above Rs1000.
IME Paisa card is a unique physical card through which one can add and withdraw money and make payments to the merchants. Their POS System works to receive payment when a customer merely touches that with their IME Paisa card.
IME Pay offers the highest amount of cashback on flight booking.
Anyway, with constant updates & improvements, IMEPay deserves the third spot in our list of best digital wallets in Nepal.
PrabhuPay – Best for CashBack
PrabhuPay is the fintech unit of Prabhu Technology Pvt Ltd., which is one of the latest digital wallet payment providers. PrabhuPay permits us to make fund transfers to wallets from 20 different banks as it has its own bank. The best part is you can move money from any of the platforms in the PrabhuPay Ecosystem to another. PrabhuPay helps its users to simplify the payment process.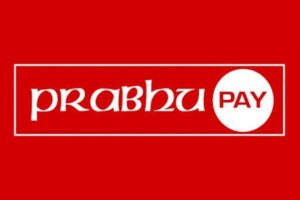 Popularity: It has managed to get over hundreds of thousand downloads on the Google Play Store and an equally admirable userbase on the iOS platform. Thus, it has been able to make 4th spot in the list.
Services: Prabhu Pay stands out among others because it provides you services like OPD ticketing of a few hospitals. Similarly, it also allows remittance services using this app through your phone.
It has also integrated its payment options in various eateries, Prabhu TV, and even as a voting partner in the reality show; The Voice of Nepal. Along with that, Prabhu Pay has been aggressively expanding its market presence through its reward points. PrabhuPay has provided various hassle-free services like utility payment, travel/movie tickets, insurance premium, internet, fund transfer, remittance, etc.
App Design: Going to the design of an app, it shares a somewhat similar design to eSewa. PrabhuPay is easy to use. All the basic services are placed up front, including loading/sending money, remittance, and utility payments. Additionally, a user's transaction history and ticket purchase history are chronologically arranged on their separate tabs.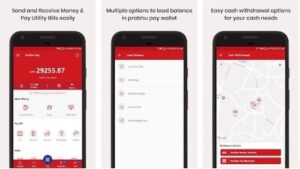 Security: PrabhuPay says they have got multiple layers of security to make the payment securely safe. Apart from PIN, PrabhuPay also supports fingerprint verification for any transactions to be made.
With its paid-up capital at par with eSewa, i.e., Rs100 million, Prabhu Pay is growing to give a tough competition to the pre-existing wallets.
MoRu – Best for Bank Transfer
MoRu is a digital wallet developed by Pay Nep Private Limited, which has received its operating license on August 2019 (Shrawan 15, 2076 B.S) from Nepal Rastra Bank. It is present as a sixth payment service provider of Nepal to create a payment platform to bring financial power to the hands of Nepalese people.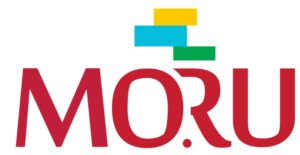 Popularity: As the vision of Pay Nep is to be the user-friendly and most trusted digital payment partner, their users are slowly increasing day by day.
Services: MoRu is the latest digital wallet, it offers services like mobile top-up, bill payment, electricity, khanepani, travel tickets, the insurance premium. Users can make their utility bill payments, scan and pay to merchants, movie tickets, bank transfers from MoRu to the bank, and many more. It also offers cashback.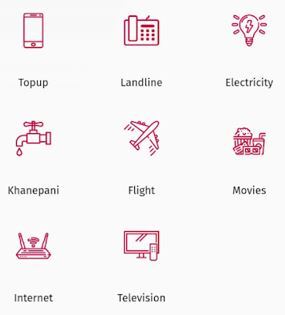 App design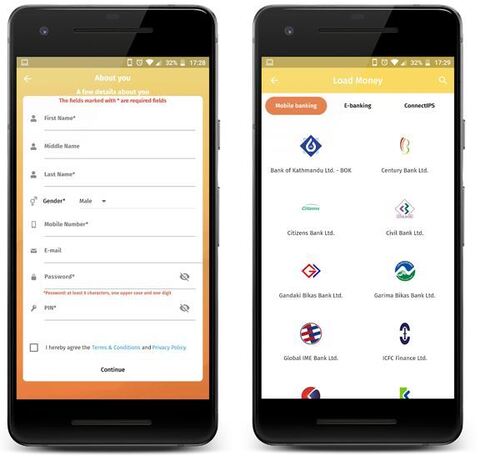 Security: This digital payment gateway confirms you secure, real-time data and instant payment to different merchants.
I-Pay – Best for Security
I-Pay is a Service offered by muncha.com, which was launched in 2010 dealing with online shopping in Nepal. Muncha.com is an intermediary that works between merchants and shoppers for online shopping.  You can open the account for the app and load the account. However, for now, you only have the privilege to load an amount from the web version only.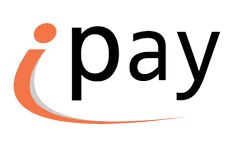 Popularity: Although it was launched a long time back, it has not lured more users into using it because it has only five partner banks and has limited providing services.
Services: Services like utility bill payments, top-up, flight, and ticket bookings are available like any other digital wallet. IPay has also been planning to expand its services. IPay exclusively rewards its customers in almost all payments or transactions.
App Design: The design of an IPay application is made user-friendly. All the services are shown upfront. It has a pretty simple design.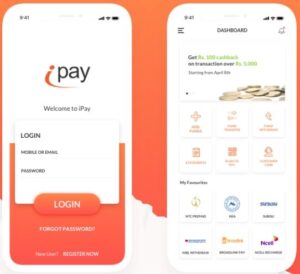 Security: It has maintained two layers of security for a transaction where you are required to input the transaction password.
Future of Digital wallet in Nepal
Nepal is moving towards a more robust future as digital wallets direct our country towards a cashless economy. The 6 digital wallets shown in the table above were able to make it to the top list. However, there are still 12 other digital wallets that could probably enter the top list.
Every one of them has its perks and maybe a little pitfall as well. But ultimately, every single one aims to make our lives easier and simpler. However, the increasing number of digital wallets providing the same kind of services and their usage has certainly made it crystal clear that Nepal is all set to go along the path towards a digital economy.  As digital wallets are mushrooming, this doesn't allow all digital wallets to sustain well in a highly competitive market.
Verdict
Thus, either the above-mentioned digital wallets list or the other digital wallets out of the list has helped our country towards a cashless economy and have been a catalyst for the digital Nepal campaign. Many digital wallets are emerging, which has led our country towards a better future. Though there is tough competition among these applications, each of these has the main goal, i.e., to provide a better service.