Generation Next Pvt. Ltd. has officially launched Apple AirtTag in Nepal on 19th July 2021. After the speculation of almost two years, Apple unveiled its new smart tracker – AirTag on 30th April. The price of Apple AirTag in Nepal is NPR 5,990 for a single pack and NPR 19,990 for the 4 pack.
AirTag is a small and lightweight tracker with built-in Ultra-Wideband tech to send signal location to the Find My app on iOS devices. AirTag is used to track anything that you frequently lose. It could be your keys, mobile phones, tv remote. There's a lot of stuff that you could lose, and the air tag aims to help solve those woes.
Before AirTag, Apple announced the open availability of the Find my platform, which was opened up to third parties. These third-party trackers work very similar to Apple's AirTag, but it has few different features that those third-party trackers don't work well. Allow me to discuss the Apple AirTag in more detail, including its features, specs, etc.
Design & Specification of Apple Airtag
Apple's AirTag is made from a piece of machined stainless steel and polished to a high gloss on one side and the other side; it appears to be a plastic shell. A shell can be personalized or customized by the customers when they order them through apple.com, in the Apple Store app, at Apple Store locations, or through Apple Authorized Resellers and select carriers (prices may vary).
You can choose from 31 different emojis that you can put on the top of your AirTag that can represent the item or something you're tracking, like keys or just the P sign or whatever. You can also add a little bit of text to buy these through Apple. 
| | |
| --- | --- |
| Size | 1.26×0.31 inches |
| Weight | 11 grams |
| IP certification | IP67 dust and water-resistant |
| Connectivity | Bluetooth, U1 chip (Ultra-Wideband), NFC |
| Battery | User-replaceable CR2032 coin cell battery |
| Compatibility | iPhone and iPod Touch with iOS 14.5 or later, iPad with iPadOS 14.5 or later |
| Others | Accelerometer, Built-in speaker |
They are also IP67 dust and water-resistant, which means they can be submerged in water of one meter for up to 30minuntes; they are still going to work just fine. They have a speaker powered by a CR2032 standard battery that is user-replaceable after one year of usage.
They communicate over Bluetooth low energy and use the ultra-wideband chip to help find your item. You can use a new feature of Apple that's coming out called precision tracking if you happen to lose the tracker or track it with the help of a built-in U1 chip and Ultra-Wideband technology, which Apple likes to call Precision Finding.
An arrow is shown on the screen, which shows you the direction you're heading, where you need to find your item, and how far away you are. It's very precise compared to other trackers out there. If you have an iPhone 11 or iPhone 12, any of those can use the precision tracking feature with the U1 chip else;, it'll operate solely over Bluetooth, which is very handy. Whereas the Apple AirTag works with iPhone SE, iPhone 6s or later, and iPod touch (7th generation).
All devices must be running on iOS 14.5 or later. You can also use it with iPad Pro, iPad (5th generation or later), iPad Air 2 or later, and iPad mini 4 or later, running iPad 14.5. There is a speaker inside of an AirTag so you can make it out, emit an audible sound that makes it easier to discover where your lost device is, and also there is an accelerometer on the inside which knows when it has been moved. 
How it works with Find My app?
AirTag operates using the Find My app on your phone, but you can also use Siri. Just ask Siri where my wallet is, where my keys are, and it'll be able to track down the AirTag and let you know. You can put it into the lost mode. When you set it into the lost mode, It will alert you if the device is found by someone else, and that way, it will work.
It's very similar to the other platforms with this feature, such as tile, tiles community feature, but you'll put it into the lost mode and say you let you key on a table at the mall. If someone walks by that table and has an iPhone in their pocket, that iPhone will see that Bluetooth signal. It'll see that the device is marked as lost, and then it'll anonymously and privately send that location back to you saying, "Hey, your keys were seen at this exact location." So, it is the way that the person can essentially help you even though they don't even realize that they're doing it.
Even though they don't see your keys on the table, it will still pick up that location and send it back. If you mark an item as long, you can optionally put your contact information there. If someone did see your keys or wallets there, they could tap it with their phone Via NFC (Near-field communication), it'll transmit that information to their phones, such as your contact information or a message. Then, they can go ahead and reach out to you and let you know, hey, I found your wallet, I found your keys, I found whatever item it is that you lost, and you can work on reclaiming it. So that is how the lost mode works and how you can optionally send information there.
Privacy & Security
Here's an anti-stocking highlight built into AirTag. Amid all the areas following, AirTag is planned from the ground up to keep area information private and secure. No area information or area history is physically put away interior AirTag. Communication with the Discover My arrange is end-to-end scrambled so that as it where the proprietor of a gadget has got to its area information, and no one, counting Apple, knows the character or area of any device that made a difference discover it.
AirTag is also planned with proactive highlights that debilitate undesirable following, an industry to begin with. Bluetooth flag identifiers transmitted by AirTag turn habitually to anticipate unwanted areas following.
iOS gadgets can distinguish an AirTag that isn't with its proprietor and inform the client if an obscure AirTag is traveling with them from put to put over time. And indeed, in case clients don't have an iOS gadget, an AirTag isolated from its proprietor for an expanded period will play a sound when moved to draw consideration to it.
If a client identifies an obscure AirTag, they can tap it with their iPhone or NFC- competent gadget, and information will direct them to cripple the obscure AirTag.
Setup
Setup is easy to work, just like your air pods. You take it, bring it near your phone, a card will appear right at the bottom of the screen, go ahead and tap it to set it up, give it a name and assign it to an item and then it'll be viewable inside of the Find My app, keep track of it, find it everything that you need to do. 
Accessories for AirTag
Several accessories are created with apple, and some are just third parties that were very quick and getting their stuff out there more and more. Starting from apple, it offers three different options. There is a leather loop for which you can tie onto the luggage bag anything like that. There is a polyurethane loop.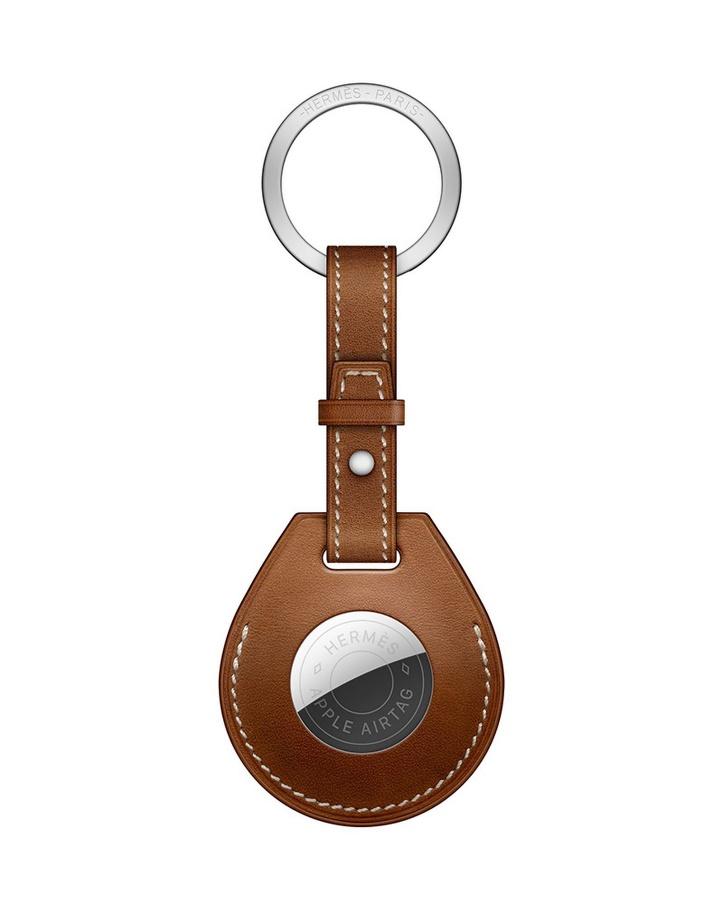 If you don't want a leather option, then there is a leather key ring. Put this on your keys. All those come in multiple colors. Apple worked with Belkin to create the security holder. Secure holder keyring is just a lower cost option to apples.
Apple also worked with Hermes to make a few different options, including a luggage tag, a keyring, and a bag charm. Third-party accessories for air tags are moment moping that offers a stretch fabric mount. It has a powerful adhesive.
On one side, you can attach it to any fabric like your bag, purse, coat, sweater, and it'll stick to those. Your airbag can come out, so you can take it out when you're washing it or anything like that or if you need to change the battery, etc., but it will stick to any fabric. It's lovely soft, and lightweight, so you can just put it in there, and you'll always keep track of your coat, your purse, whatever. So, a couple of neat options there, but again there are a ton of accessories already coming out for this.
Apple AirTag Price in Nepal and Availability
Apple AirTag price in Nepal is NPR 5,990 for 1 pack, and again, you can customize them with the emoji, your text when you're buying them through apple. But you can also get a four-pack of Apple AirTag for NPR 19,990 in Nepal, which helps you to save at least a little bit amount of money by buying four of them at once instead of just one at a time.
| | |
| --- | --- |
| Apple AirTag | Price in Nepal  |
| Apple AirTag (1 pack) | NPR 5,990 |
| Apple AirTag (4 pack) | NPR 19,990 |
For users in Nepal, you can buy the Apple Air Tag from the authorized channel i.e. Genxt. The main competitor of the product is Samsung's Galaxy SmartTag.