HIGHLIGHTS:
After the nationwide expansion of 4G network coverage, Nepal Telecom is introducing VoLTE service over its network
This service will offer OTT like voice and video call experience over 4G network
VoLTE will be accessible to all NTC users depending upon the device compatibility
Nepal Telecom users can now enjoy high quality phone calls using only its 4G network. Since NTC-4G network coverage is finally available all over Nepal, the broadband company has added the VoLTE feature in its telecommunication service. This new is made accessible from May 17, 2021 (Jestha 3, 2078), on World Telecommunication and Information Society Day.
What is VoLTE?
Voice over LTE (VoLTE) is a high bandwidth data transfer technology that offers HD life-like audio on voice and video calls over the 4G LTE network. VoLTE offers the same experience as any other OTT services like Viber or Messenger, using only 4G network. This means you can make phone calls through your 4G number have natural sounding conservation with an ultra-clear voice.
The working mechanism of VoLTE is similar to Voice over IP in which the voice data transfer through the internet, however in VoLTE, the data transmit simply through the 4G network.
VoLTE for NTC users
4G is a data-only network which is not enough to support voice over 4G. Due to this reason, our phone calls operate on 2G or 3G despite using 4G enabled devices. VoLTE allows users to make voice calls on 4G network. It provides a disturbance free voice call with reduced background noise and also the same quality on video calls while surfing at 4G speed simultaneously.
VoLTE is one of the most anticipated services from Nepal Telecom and the good news is that there is no additional charge on this service, neither you need to buy a special package to activate it on your number. NTC VoLTE calls cost the same as the usual 2G or 3G which is cost per minute.
Advantages of VoLTE service
Crystal clear and distortion free voice calls at the same cost of 2G, 3G
VoLTE uses IP packets for data transmission, resulting in optimal use of network resources like transmission link, spectrum, and others.
It has a faster call setup compared to 2G, 3G which enhances the user experience during phone calls
VoLTE calls are proven to make less battery consumption which enables you to have a longer conversation even on low battery backup
How to enable VoLTE on your device?
VoLTE is quite a new concept in the telecommunication sector of Nepal, so not every smartphone or 4G LTE network will support VoLTE. Before setting up this service, make sure both the telecom operator and your mobile device support VoLTE.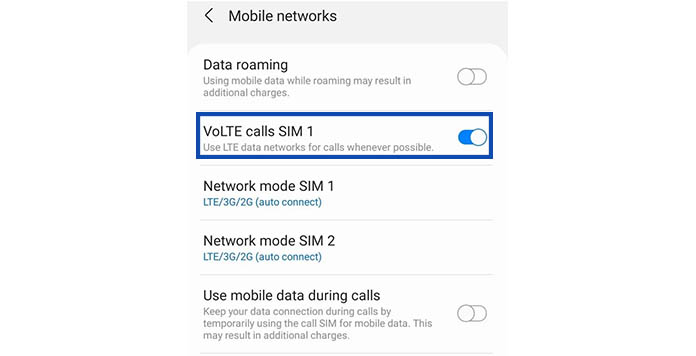 Next, you can follow the simple given steps to enable VoLTE on your device:
You need to go to Mobile Networks in your Phone settings
Then select the SIM card if you have a dual-SIM option
Then you can enable the VoLTE feature if you are on the 4G network
Devices compatible with NTC VoLTE
| | |
| --- | --- |
| Samsung | Galaxy M series, Galaxy A series, Galaxy S series, Galaxy Note 10 series, Galaxy Note 20, Galaxy Z Fold 2 |
| Xiaomi | Redmi 9 Prime, Mi10, Redmi 9C, Redmi Note 9 Pro, Redmi 8A |
| Nokia | Nokia 5.3, Nokia 7.2, Nokia 3.4 |
How to activate / deactivate VoLTE in your NTC SIM?
Follow the given steps to activate VoLTE in your NTC SIM:
Dial *444# and select option 2
VoLTE service will be subscribed to your number
Once the VoLTE service is enabled on your phone and SIM card, VoLTE/HD icon will appear on the top bar of your smartphone screen for android phones.  You can dial *111# to confirm the subscription in which NTC is also offering 100 minutes free VoLTE calls valid for 28 days.
Follow the given steps to deactivate VoLTE in your NTC SIM:
Dial *444# and select option 3
VoLTE service will be unsubscribed from your number
Verdict
Voice call is the primary means of communication for users over a telecommunication network. It is also a significant revenue source for telco service providers. Consumers always prefer services that provide a satisfying level of experience in every aspect of network and communication. VoLTE integration can benefit both operators and customers, making voice calls and data surfing more efficient over 4G.
The adoption of VoLTE feature will open new opportunities for other telecom operators in Nepal. Evolving operators like UTL, CG Telecom, Smart Telecom and Hello Nepal can implement VoLTE service directly building 4G network without investing in 2G, 3G. Another leading telco, Ncell may also soon adapt to the VoLTE service. The upcoming generation users will gain access to high speed voice calls over all 4G network.