JBL Clip 4 is the JBL's newest ultra-portable Bluetooth speaker that's great to take on the go with you either when you're walking the dog, maybe out on a hike. It is cool, waterproof, and a compact Bluetooth speaker from JBL.
JBL Clip 4 Overview
JBL Clip 4 is especially for the customers that need something ultra-portable. The Clip 4 is a great little speaker to have whenever you're on the go. It has got great battery life; it has built-in clips, which is here as a bonus. The Clip 4 has got some important upgrades from Clip 3 and Clip 2. Here we will cover its design, built quality, specification, price in Nepal, and its availability.
Design
JBL Clip 4 has got a kind of round shape that is durable and rugged. It has a JBL branding in the center with a nice rubber feel to it. There is also playing, pause as well as your volume and track control buttons. The speaker has a built-in carabiner clip; hence it is named Clip 4, which you can use to attach the speaker to a bag or a belt, loop, or anything so that you can keep track of it while you're on the go.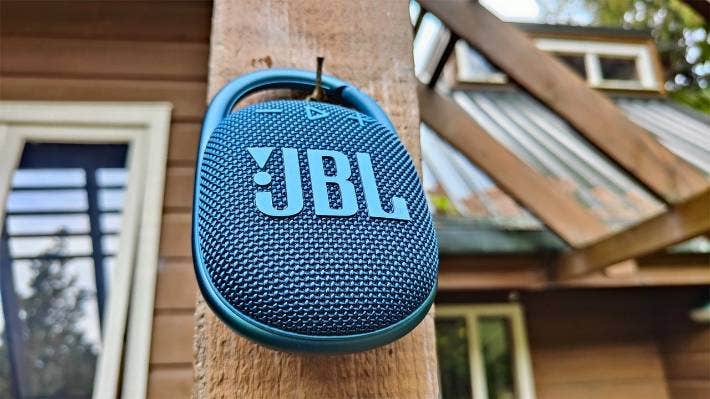 The overall built quality of Clip 4 is good, and it has mostly a fabric body. On the right side of the speaker, there is some additional branding. On the back of the speaker, there is a rubber tread that helps keep the speaker in place whenever you place it on a surface, and on the left side of the speaker, you have got a power button and a Bluetooth pairing button.
The speaker also has IP67 dust and water-resistant rating where you need not worry about getting git wet when taking it to the pool or the beach. You can take this speaker anywhere as there are no restrictions here. The carabiner of clip 4 is much wider, which is easier to clipping this speaker to the things.
Also Read:
Battery Life
The Clip 4 has the same 10 hours advertised battery as the Clip 3, which is good as the Clip 4 now is a 5-watt speaker. As for battery life, you're looking at roughly 10 hours on a single charge which is impressive for a speaker of this size.
Sound
The sound quality on Clip 4 is designed to be more open, a little louder, having a bit more bass with the same decent battery life, which has got a very warm and clear sound to it than that of the predecessors.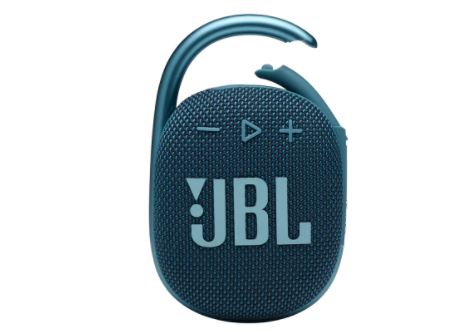 JBL Clip 4 Specifications
When it comes to the tech Specifications, the Clip 4 has been upgraded to USB C charging. The speaker is running Bluetooth 5.1, this helps in up-to-date Bluetooth technology, but the Clip 4 no longer has an audio jack. The Clip 4 can be connected only to one device at a time. The Clip 4 doesn't have a Party boost. So, you can't wirelessly pair it up to any of JBL's other speakers that have party boosts like JBL Boombox 2, JBL Xtreme 3, JBL Flip 5, or JBL Pulse 4.
General Spec
Output Power
5W
Frequency Range Hz (-10dB)
2400-2483.5MHz
Audio Spec
Dynamic frequency response range
100Hz-20kHz
Dimensions
3.4 x 5.3 x 1.8 inches
Weights
.24 kgs (.53lbs)
Control and Connection Specifications
Bluetooth profiles
A2DP 1.3, AVRCP 1.6
Bluetooth transmitted modulation
GFSK, π/4 DQPSK, 8DPSK
Bluetooth transmitter power
≤ 10 dBm (EIRP
Bluetooth version
5.1
Battery
Maximum play time (hours)
10
Charging time (hrs.)
3
Bluetooth
Yes
Waterproof
Yes
Wireless
Yes
IP67
Yes
JBL Clip 4 Price in Nepal and Availability
JBL Clip 4 is available in official stores of JBL like EvoStore and Oliz Store in NRP 9,000. The Clip 4 retails for 70 dollars that are featured in exclusive colorways following the trend.
Portable Speaker
Price in Nepal
Availability
JBL Clip 4
NPR 8,900
NPR 9,000
EvoStore
Oliz Store
The Clip 4 does sound better than its predecessors while still having a decent 10 hours battery life. The speaker has also been upgraded to USB charging. It is also a solid little podcast machine.