Ecommerce platforms in Nepal are found to be growing in a rapidly progressive manner. Online shopping trends were never before such immense popularity among customers compared to these days. Lockdown sessions due to the recent global pandemic have encouraged more buyers to shop online goods for their everyday needs. Several online stores in Nepal like Daraz, Hamrobazar, SastoDeal, and Foodmandu have been fulfilling the shopping necessities of their customers in a wide range.
List of 10 most popular online stores available in Nepal.
| | | |
| --- | --- | --- |
| S/N | Top 10 Online E-commerce Stores in Nepal | Remarks |
| 1 | Daraz | Most popular e-commerce till date  |
| 2 | SastoDeal | Quality products at a low price |
| 3 | Hamrobazar | Sells or buy first hand or second hand products |
| 4 | Muncha | Best known for buying gift items |
| 5 | SmartDoko | Popular for its responsiveness and feedbacks |
| 6 | Foodmandu | First online food order and delivery service |
| 7 | Metrotarkari | Online fruits and vegetable store |
| 8 | Okdam | Most trusted and reliable online store  |
| 9 | Socheko | Quality products at a quality price |
| 10 | Daami Cha | Clothing brand in Nepal |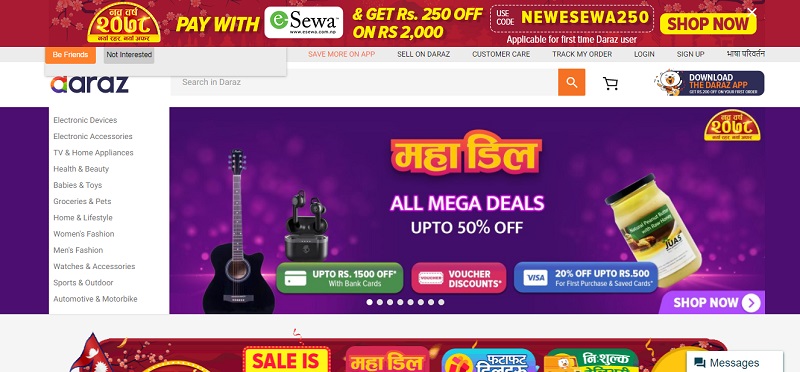 Daraz, formerly known as Kaymu, has become the foremost choice of most Nepali online shoppers. Daraz is also considered the preliminary service to establish an online shopping experience in Nepal. Daraz features various categories of products such as electronic devices and home appliances, health and lifestyle, fashion and beauty, gadgets and accessories, and many more, along with comparative price differences. 
Daraz offers multivendor options and multiple payment choices, including cash on delivery, Visa, and MasterCard, making it easier and reliable for customers to buy products online. Its joint venture in 2018 with Alibaba, China's e-commerce giant, has expanded the online presence and online shopping facilities of Daraz among its customers. Daraz app is one of the most used online shopping apps in Nepal.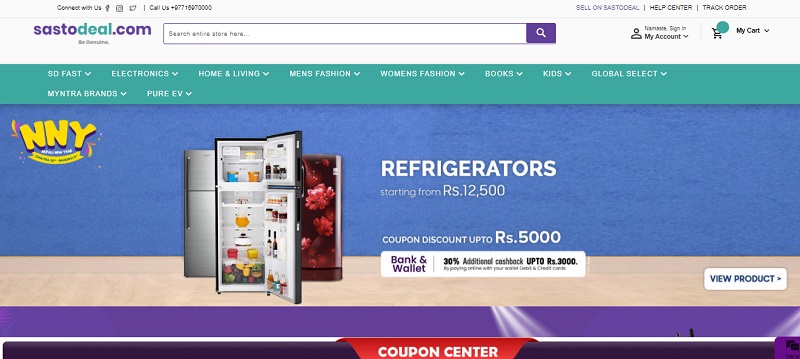 SastoDeal is another biggest and one of the earliest online shopping sites in Nepal. SastoDeal features goods in several categories like clothing, footwear, and accessories for all men, women, and kids. You can also find electronic gadgets and appliances, health and fitness, travel and living, safety kits, and body care products in SastoDeal.
Sastodeal offers a comparatively lower price on its products and free home delivery service within Kathmandu valley. A small delivery charge is added for orders from outside the valley, with a refund or product exchange within a specified time.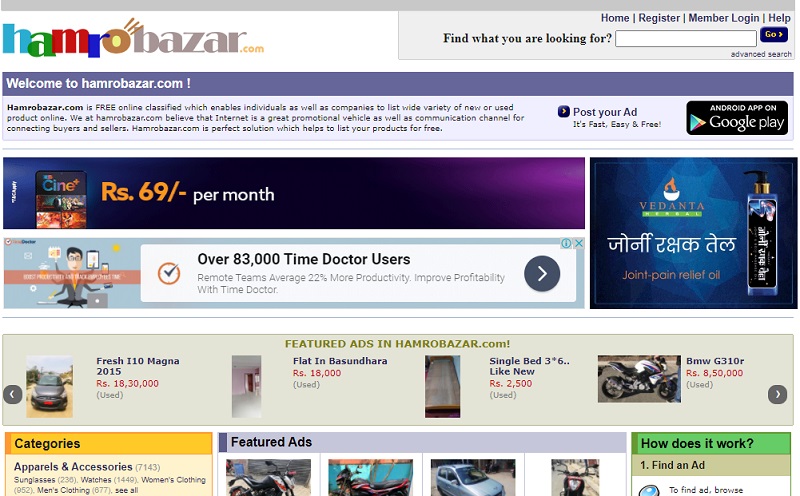 Hamrobazaar is the best choice for buying and selling goods at both personal and proprietary levels. Hamrobazaar has created a space to directly connect buyers and sellers to shop online in Nepal. You can list your products in broad categories and sells them to online customers through its site, with no charge on the listing. You can find both new and used products to buy online in Hamrobazaar.
Hamrobazaar is one of the most visited websites in Nepal. However, it isn't the first choice to buy brand new products. Sellers usually list second-hand products for buyers looking for such products since Hamrobazaar is the only platform to sell and purchase first-hand second-hand goods.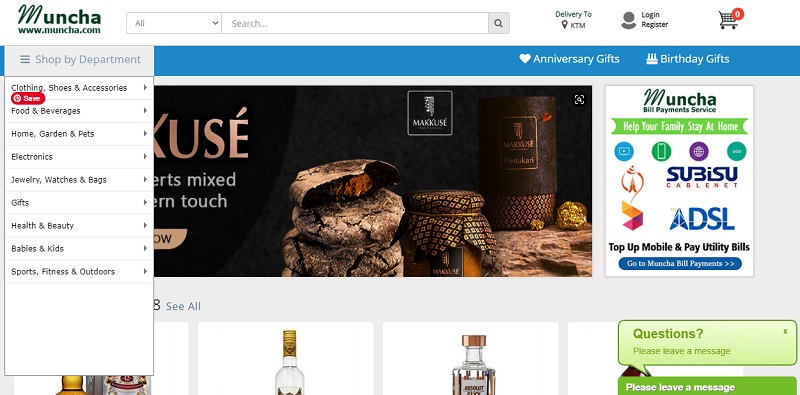 Muncha is one of the oldest digital shopping stores in Nepal. Muncha departmental store has served its customers for over ten decades since it was established in the 1920s as Mucha House. They provide you unlimited varieties of products with the best quality services. Its online shopping service Muncha.com is a popular choice among Nepalese shoppers for mainly gift accessories.
Muncha offers door-to-door home delivery services with reasonable prices and a short delivery period. You can choose any payment options from cash on delivery, iPay, MasterCard, and VISA.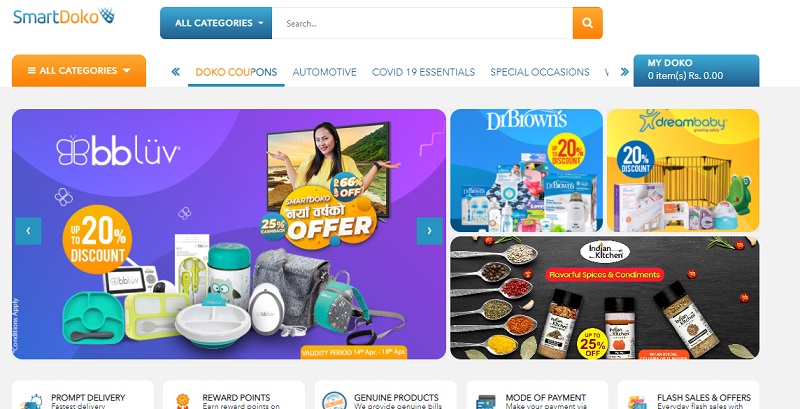 SmartDoko is a progressively growing online shopping platform in Nepal. Being a new member of the e-commerce industry of Nepal, SmartDoko has been doing impressively well in giving a tremendous level of satisfaction and online shopping experience to its customers. Excellent customer feedback and quality products, and intelligent promotions on social media of SmarDoko have contributed to its growing popularity.
SmartDoko has opted for strategic approaches such as competitive rates on its wide selection of products and services, prompt delivery, high level of responsiveness and reliability over its integrated marketing communication, and strong distribution channels. SmartDoko offers an online shopping service through both website and app where rewarding points to its users are also attractive features.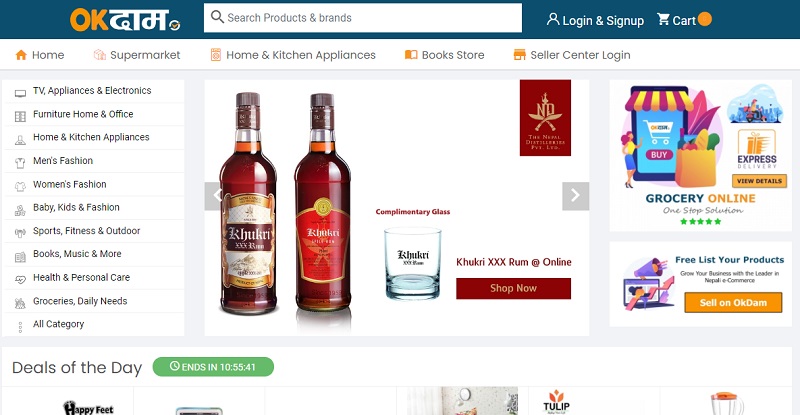 OkDam is one of the most trusted online shopping sites. It ensures the authenticity and reliability of products based on specified dates and times at customers' convenience. OkDam guarantees to offer the best price choices compared to other similar platforms.
OkDam offers a wide variety of products ranging from mobile devices, electronics, home appliances, fashion, and clothing to health and fitness items like organic coffee, green tea products, and much more. However, buyers with minimum requirements may not prefer OkDam as their online shopping destination since the store suggests to buys in bulk.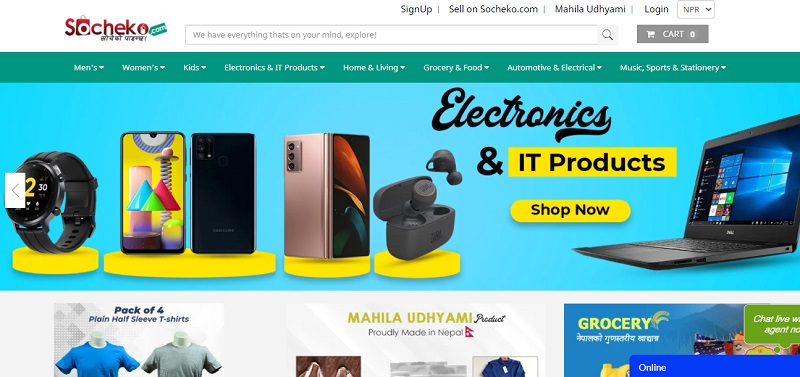 Socheko is another quickly growing and reliable online shopping store in Nepal. Socheko provides an extensive range of products with multiple categories from national and global brands. 
Socheko claims to offer the right price for the right products instead of competing in a price war with other similar platforms. Nepal's renowned business group promotes Socheko.Com in the Nepal business arena for over two decades. They understand the value of their customers and always put customers as a priority.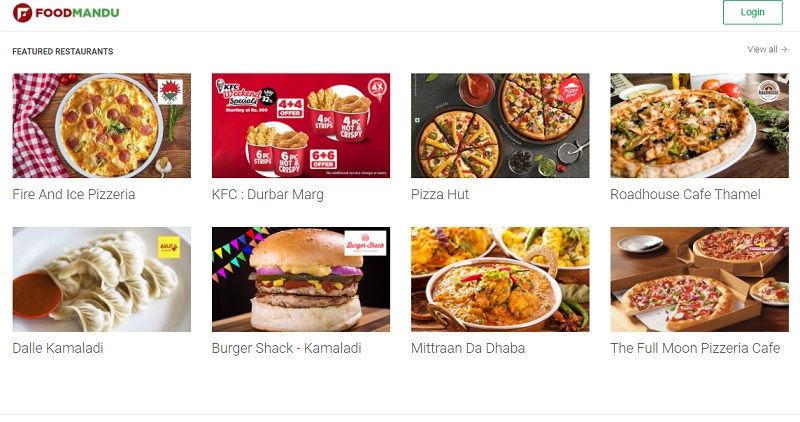 Foodmadu is the most popular e-commerce food delivery platform in Nepal. Foodmandu is the first-ever online site that carries foods from restaurants of your choice and delivers them to your doorsteps.
Foodmandu is making food ordering services highly convenient through online platforms. You can place an order for your favorite food and from your favorite restaurant and receive the food within an hour. Customers can order from the website or Foodmandu app within Kathmandu valley.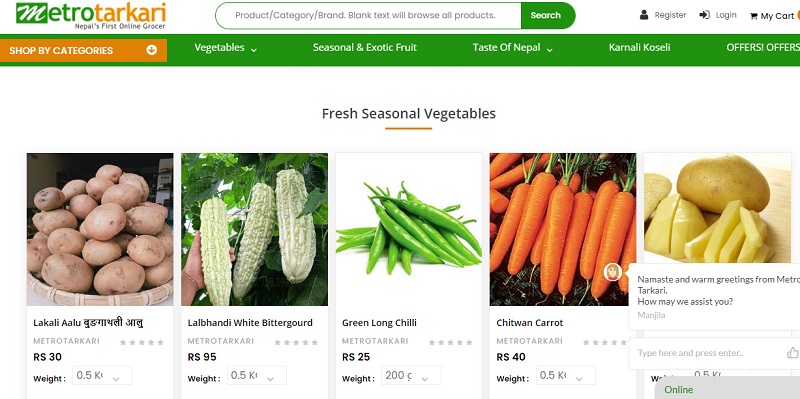 MetroTarkari is an innovative platform for online shopping in Nepal. It delivers essential grocery items for every day kitchen needs. You can buy fresh fruits and vegetables at a valid market price from MetroTarkari.
MetroTarkari makes it possible to get fresh and hygienic fruits and vegetables staying right at home, avoiding all the rush and hassle you have to face while visiting the hectic vegetable market. The delivery area of MetroTarkari online store ranges from places of Lalitpur, Bhaktapur, and Kathmandu.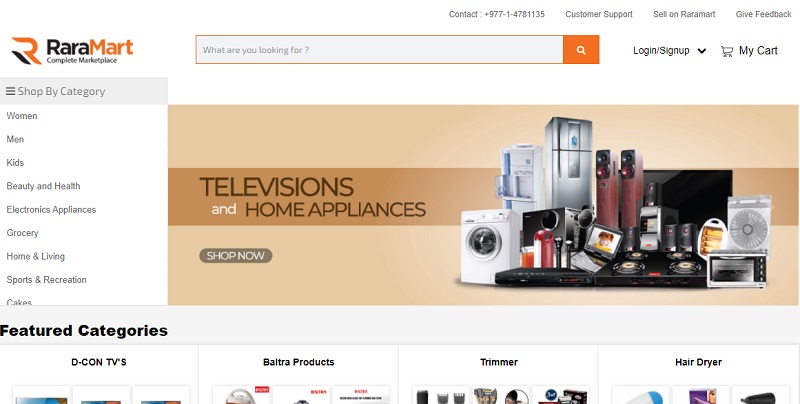 RaraMart is a Japanese brand online store in Nepal. RaraMart is owned by the Rara Incorpination Nepal and was founded by business intellectuals from Japan and enthusiastic Nepali entrepreneurs. RaraMart aims to be the best online shopping site in Nepal by offering unique and branded products at a low price and fast delivery.
Renowned business intellectuals and market researchers operating the company and its well-known international reputation with global brands make RaraMart a reliable and trusted online shopping destination of Nepal.
Conclusion
Nepal is remarkably progressing towards digitization. With digital payment services like e-wallet and mobile banking, online shopping has become just another favorite way to find and shop daily products for Nepalese customers. Ecommerce platforms have been working on their best to offer the most efficient online shopping experience in Nepal.