Discovery is as significant as the creation of something. Spotify, one of the world's largest music streaming platforms, is now collaborating with social media giant Facebook. They intend to offer users an additional feature to explore and engage with Spotify music, right within the Facebook app.
Facebook's new in-line audio player will allow users to stream content like music and podcast on their platform directly from Spotify, without switching between app or externally linked to its website. This feature will boost users' experience of sharing and engaging with music and podcasts. 
Spotify's Premium users will get access to a mini-player within the Facebook app on iOS and Android, in which users can enjoy Spotify playlists while scrolling through their News Feed at the same time. You can share your favorite songs in your profile, and others can engage with them. Spotify Free users can enjoy the same experience via shuffle mode with accompanying ads from Spotify.
Steps to access Spotify Mini player on Facebook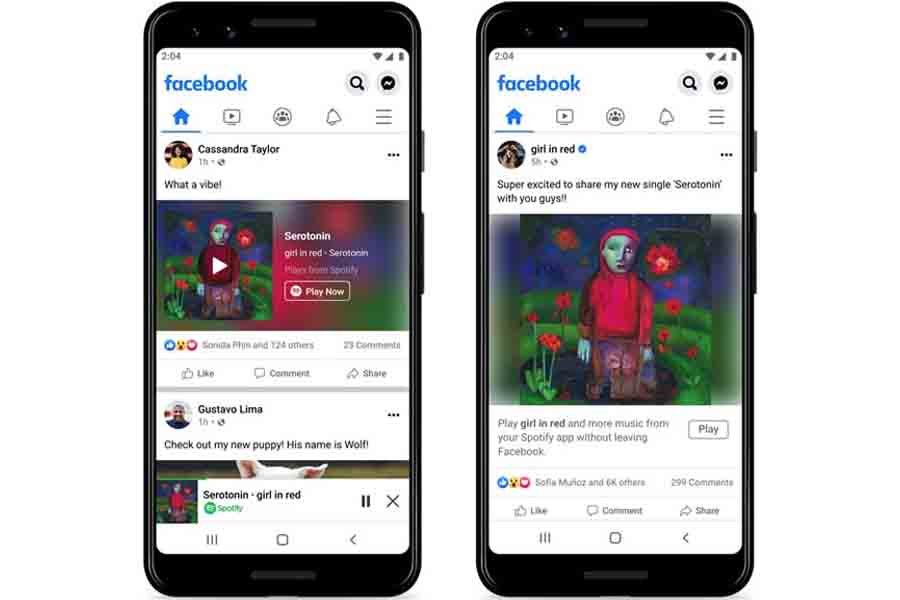 You can launch the mini-player on Facebook by selecting the share option on Spotify. People in your friend list will also play the shared audio within the Facebook app. You can listen to verified artist's music directly from the post they share on Facebook.   
Tap the "Play" button on the song you, your friend, family member, or favorite creator shared from Spotify to their Facebook News Feed. 

The first time you're using the mini-player, you'll see a consent dialog open—click on "Connect" to continue.

If you're logged in to Spotify, the apps will automatically switch, and playback will start from within the Spotify app. (If you're not logged in, you will be prompted to do so.)

Spotify keeps playing even if you keep scrolling down your News Feed, but you'll have control over playback options so you can pause or dismiss the mini player. 
Feature Availability
The integration of Spotify mini-player on Facebook will be initially available in some countries worldwide. However, users will be facing an extra charge for the newly added feature. Spotify has raised its subscription fee varying on user package plans and residential regions.
The new feature is announced to be launched in the following 27 countries:
Argentina, Costa Rica, Israel, Paraguay, Australia, Dominican Republic, Japan, Peru, Bolivia, Ecuador, Malaysia, South- Africa, Brazil, El Salvador, Mexico, Thailand, Canada, Guatemala, New Zealand, Uruguay, Chile, Honduras, Nicaragua, USA, Colombia, Indonesia, Panama.