With the Nepali New Year right around the corner, Samsung brings the "Suruwat Naya Utsaah Ko" offer. Last year's New Year was somehow unexciting due to the lockdown across the country. But this year, Samsung is bringing some offers to celebrate the New Year 2078. If you were waiting for the right time to make the purchase, this is perfect for doing so.
The New Year offer provides up to 35% discounts on home appliances such as Refrigerator, Washing Machines and TVs. It is valid up to 11th Jestha 2078.
Samsung's New Year 2078 Offer
Samsung TV
Samsung has the best-in-class Tvs in its collection. Some of them are OLED TV, Full HD/SD Smart Televisions and 4K UHD TVs. Samsung's OLED 4K TV has the most potent 4K experience. It also has the most powerful Quantum Dot technology and Quantum 4K processor, which delivers 100% colour volume. 
On the other hand, the 4K UHD has smart features and a crystal 4K processor. It also delivers a powerful picture quality with the best crystal display.
The Full HD Smart TV variants have an immersive Full HD resolution. It has other features like voice assistant and personal computer mode. A wide range of connectivity options is available in HD and FHD TV.
Samsung Refrigerator and Washing Machine
A wide range of Refrigerators variants like Side by Side, Double, and Single door also has the New Year offer. An innovative all-new Curd Maestro TM in the refrigerator is breathtaking; it is the first refrigerator to have a frost-free mechanism that makes the fresh curd and preserves it. All the refrigerators with this technology also have the New Year offers.
Furthermore, the refrigerators have SpaceMAx technology on two-door and three-door options, which lets you store more food with limited external dimensions and compromising energy efficiency. The Digital Inverter technology ensures energy savings, and Twin Cooling Plus technology provides precise cooling. Samsung's refrigerators also have compact and sleek designs.
Similarly, you can also avail of the New Year offers on the other variants such as Top load, Semi-Automatic, Front Load Washers and Dryers. They flaunt the innovative Eco bubble and hygiene steam technology, assuring up to 99% allergen-free washing. They also have AI control features offering a customized laundry experience.
Two Years Warranty on Various Machines and free installation
On the occasion of the Nepali New Year 2078, Samsung is also offering 2 years warranty on all of its TV products. The one year is for a full product warranty and an additional one year on the panels. Similarly, it is also providing 10 years DIT Warranty on various Refrigerators and Washing Machines.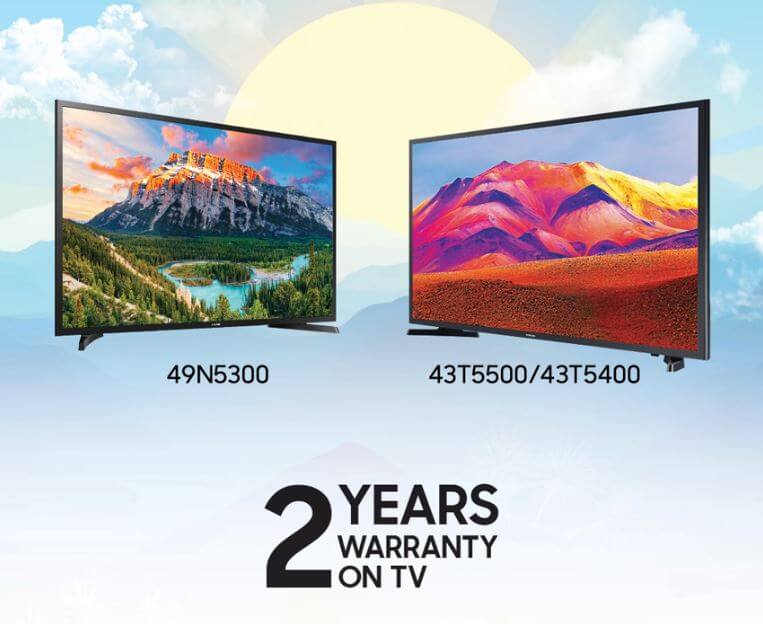 And the offers don't end here; it is also providing free installation service on the selected appliances. The offer is valid from 19th Chaitra 2077 to the 11th Jestha 2078, which can be availed from the authorized distributors of Samsung electronics in Nepal: Him Electronics and Triveni Byapar and their dealer networks.