Nowadays, Smartphone manufacturing companies are not just launching smartphones; they are launching all sorts of smartphone accessories to build their own ecosystem. Smartwatch is one of those accessories that are getting huge attention from almost all the major smartphone companies like Apple, Samsung, Xiaomi, Realme, Oppo, and more.
Now Oneplus has been added to the list with the appearance of the device in patent schematics. OnePlus has already entered into the accessories lineups with neckband earphones under the Oneplus Bullet lineup, TWS earphones market with OnePlus Buds and Bud Z, and the fitness band market with budget-friendly OnePlus band. The company is set to enter the smartwatch market with the launch of the OnePlus Watch.
OnePlus Smartwatch Rumors
The rumors for the OnePlus smartwatch are not new; it has been surfacing for a while now. However, a new leaked patent filing made by OnePlus with the German Patent and Trademark Office has provided us with the best look for the device yet.
Design
As revealed by TechnikNews, this patent filing includes the detailed sketches for the devices, which shows two slightly different designs, which could mean there may be two different versions of the smartwatch on the launch, most probably a standard version and a sporty variant.
The device sketches on the patent show the device with a round dial with a bracelet strap. The body features two buttons on the right side, probably for navigating the menu option. The button placement and the body of both variants of the device will look very similar.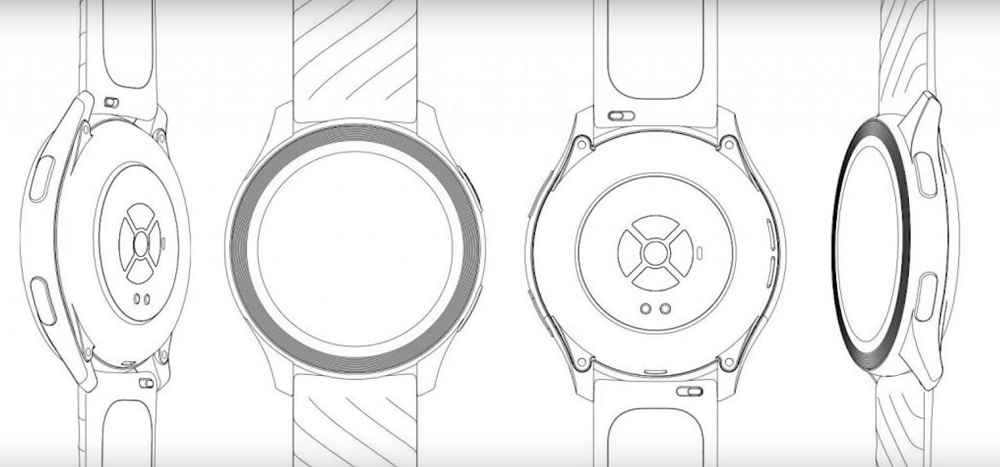 However, the frame on the standard version is slightly larger. The standard version will feature a leather (leather substitute) strap with a clip-on style. The sporty variant of the watch will feature a fluted strap, most likely a silicon one like other fitness bands. The straps will most likely be removable and swappable with other bands.
The watch's rear-side will have four sensors that may include a heart rate sensor, blood pressure monitoring, blood oxygen. The rear side will also feature two contact points for magnetic charging.
Features
During an interview in December, the CEO of OnePlus, Pete Lau, mentioned OnePlus working with Google to improve the WearOS ecosystem's connectivity. This confirms the upcoming smartwatch to be running on Google's WearOS. More details about the device are still unknown. However, we can expect more leaks and rumors as we move forward.
OnePlus Price and Availability
CEO Pete Lau confirmed that an OnePlus watch is in the making through a tweet and mentioned that the smartwatch could arrive "early next year." Hence, there are speculations that the smartwatch will be launched alongside Oneplus's next flagship smartphone, the Oneplus 9, which will arrive in March.
Unfortunately, there aren't any concrete speculations about the pricing of the device, given that it is the first smartwatch from the company. We will have to wait for other details about the device and its pricing.