Lenovo IdeaPad 5 is an i5 11th Gen 15.6″ Notebook having various features such as a webcam with a privacy feature, HDMI, SSD storage, Integrated AMD Radeon Graphics, Backlit Keyboard, Bluetooth 5.1. This IdeaPad 5 Notebook comes with an AMD Ryzen 5-4500U processor.
Lenovo IdeaPad 5 Overview
Lenovo IdeaPad 5 has an AMD Ryzen 5-4500U CPU integrated AMD Radeon graphics, 15.6 inches Full LED IPS display, Bluetooth 5.1, built-in webcam having 720p with a privacy shutter and a microphone. A fingerprint sensor is found on the power button and weighs 3.7 pounds. It's a powerful laptop that's great for someone looking to do CPU-intensive activities with a mix of day-to-day activities and light gaming.
Design & Display
Lenovo IdeaPad 5 is a 15.6-inch Full HD IPS Display with an AMD Ryzen 5-4500U Processor and a screen resolution of (1920 x 1080 pixels). Lenovo has added a meaningful security feature on this laptop, including a webcam with a privacy shutter and a biometric fingerprint reader. The display possesses a 60hz refresh rate and a brightness of 300 nits.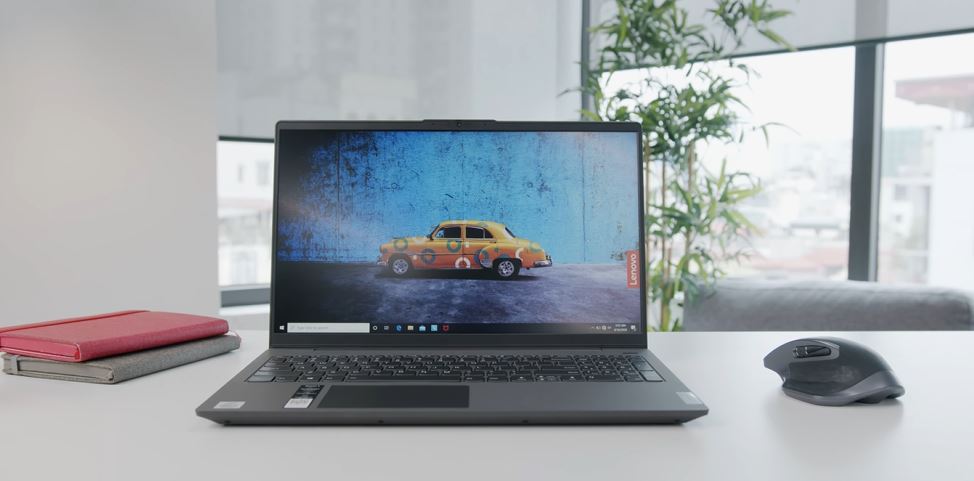 The exterior design of a laptop is straightforward, with only the Lenovo logo at the corner. This laptop is concerned mainly with work and productivity. The computer consists of 8GB DDR4 3200Mhz Memory and 512GB PCIe SSD and weighs around 1.7kgs (3.74 pounds). It has a 3-cell 57WHr internal battery, and the display is a touch screen display. Various ports are available, like USB C port & others, allowing for speedy and convenient charging for laptops and devices.
Finger Print Reader
The laptop consists of a one-touch fingerprint sensor on the top of the power button, a part of security. Overall, the design of an IdeaPad 5 is clean and straightforward, and a smooth plastic body hides fingerprints very well.
Hardware
The Lenovo IdeaPad 5 comes with a standard range of hardware:
Ports and Slots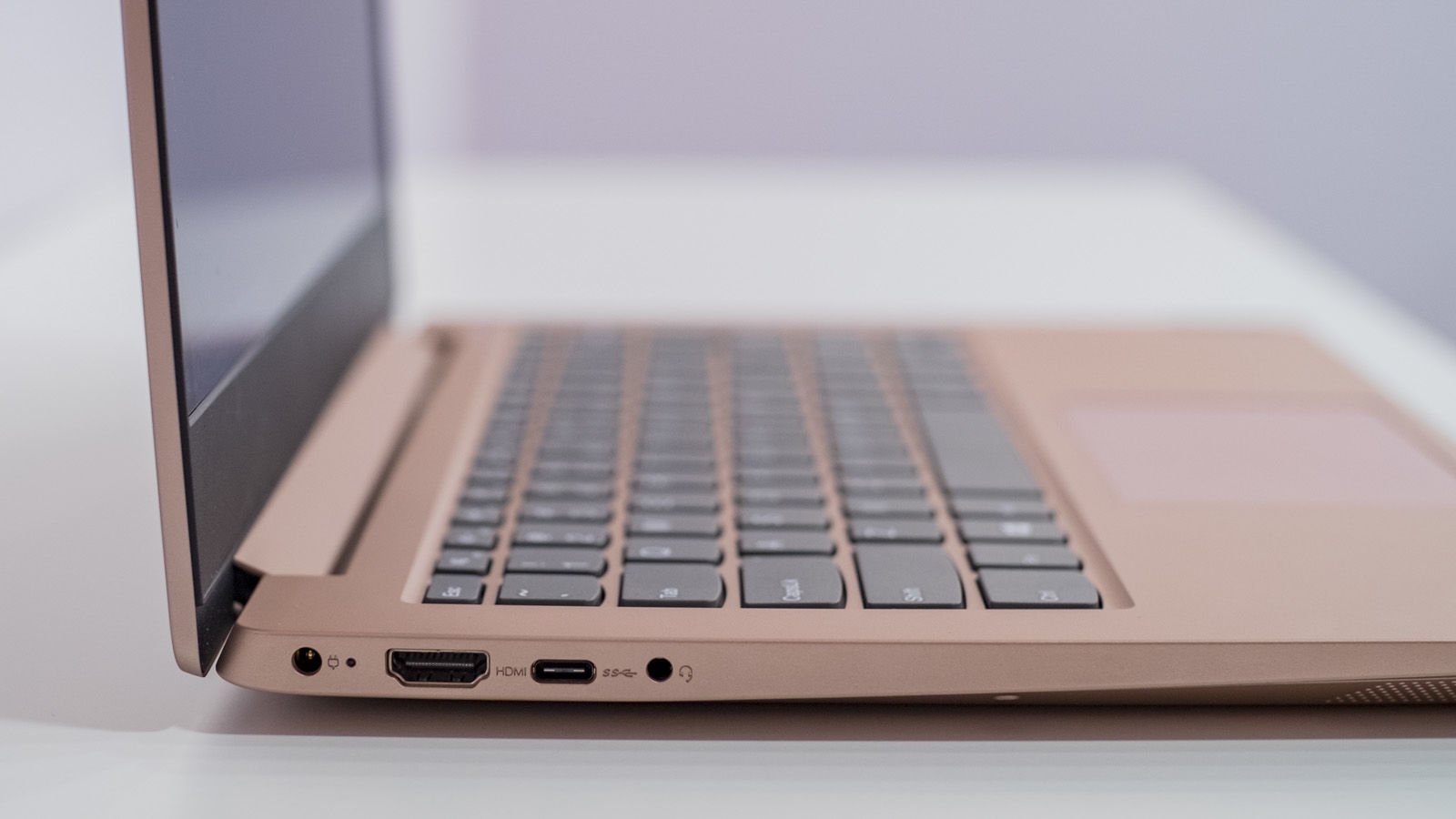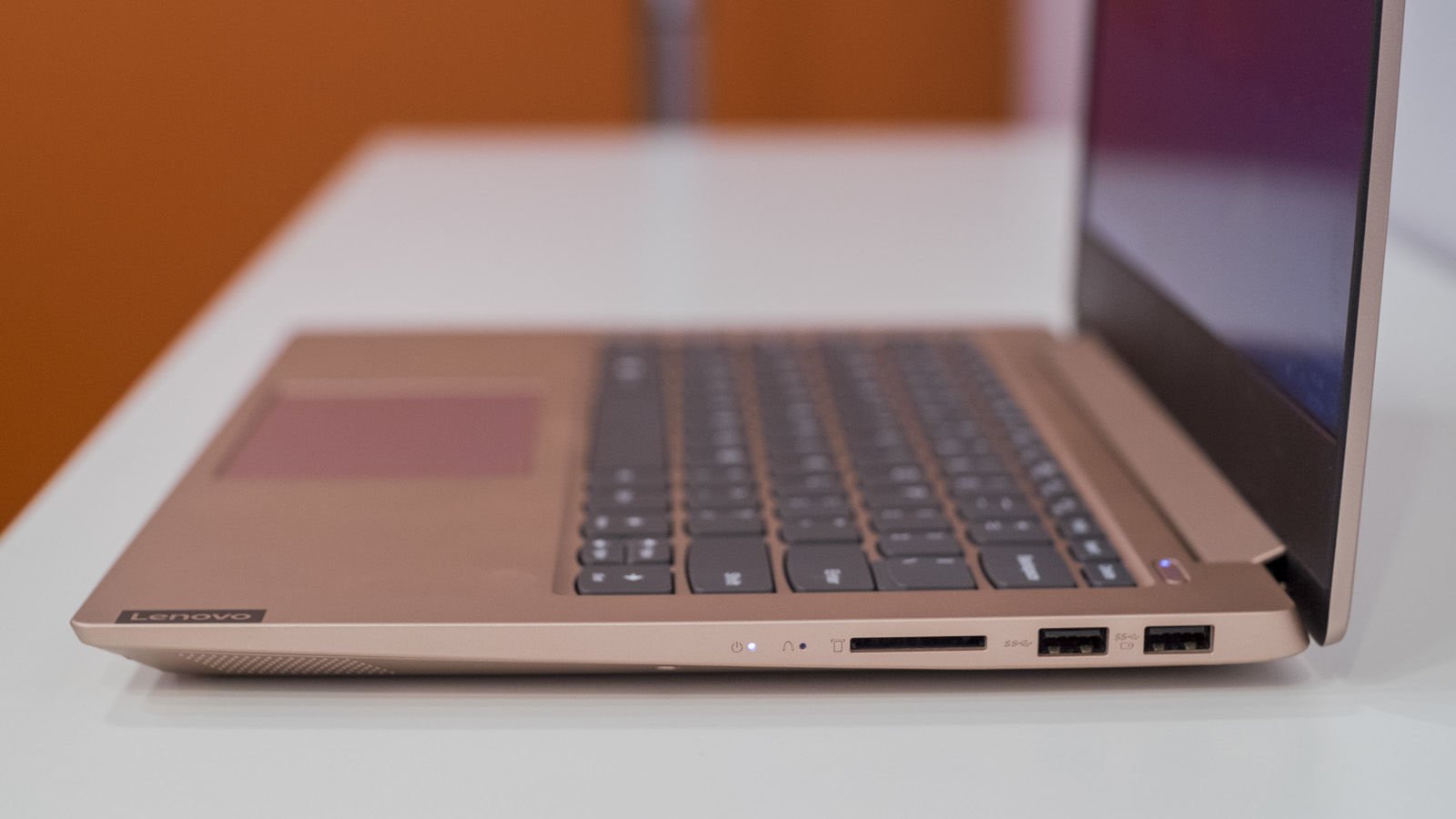 IdeaPad 5 has an adequate range of ports. I/O diversity is semi-decent, and the situation of a port is pretty good. There are two USB 3.1 Gen 1 ports, a full-size SD card reader, a power indicator on one side, whereas, on the other side, you have one USB C port, an HDMI port, an audio jack, and another charging jack.
Keyboard and Touchpad
The keyboard of IdeaPad 5 is great as this has excellent keys travel, which means every keystroke feels pleasant to the touch. This Lenovo offers two levels of backlight where each key's lit individually. This laptop's keyboard consists of large and curved keycaps, which have a smooth and pleasant finish even though the keycap is plastic. The keyboard includes 10 keypads for numbers, and it has a dedicated playback key directly above the 10 keypads.
The touchpad in IdeaPad 5 has a decent size. The trackpad is of accurate windows precision, made up of a plastic surface.
Webcam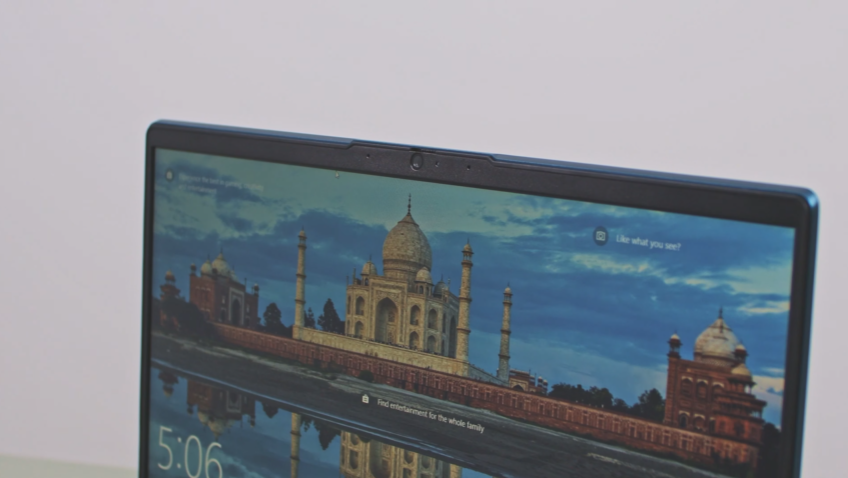 On the upper bezel of IdeaPad 5 is a 720p webcam with a microphone located in the correct location. Lenovo has also included a privacy shutter considering the consumers' privacy-conscious, which allows them to close the webcam when not in use.
Performance
Powerful AMD Ryzen™ processors in IdeaPad 5 offer amplified performance. The performance level of IdeaPad 5 is very suitable for most of the student's demands. The version of this model allows one to multitask very well. We have a dual heat pipe in the CPU cooling department with a heatsink and a single fan. You cannot hear the fan noise during general usage.
When it comes to upgradability, Lenovo allows you to upgrade some of the components. It has a replaceable m2 SSD slot which is preoccupied with 512 gigs in this model. Integrated AMD Radeon graphics handles the IdeaPad 5 visuals. IdeaPad 5 laptop is a great overall performance machine.
Audio
The IdeaPad 5 has a 220-watt speaker facing upwards. The speakers in this model are at the top of the base panel above the keyboard that avoids sound to muffle as they are upward-firing.
Battery Life
In the battery life department, IdeaPad 5 has a decent battery life of 57-watt which gives about 7 hours of runtime, but Lenovo claims the battery should last up to 14 hours of runtime. IdeaPad 5 has a small and light battery charger to carry around in the backpack.
Lenovo IdeaPad 5 Specifications
IdeaPad 5 is a high-built quality laptop. This brand includes 4000 series CPU, specifically the Ryzen 5-4500U CPU. It is a 15.6 inches Full HD IPS display and LED backlight to provide a thinner and more energy-efficient screen. The display has a thin bezel and consists of a matte IPS panel with a good resolution of 1920 x 1080 and excellent 300 nits brightness.
CPU
AMD Ryzen 5 4500U Processor
RAM
8GB DDR4
Display
i5 11th Gen, 15″ Full HD (1920 x 1080 pixels) IPS
60Hz refresh rate
300 nits
Storage
512GB SSD
Webcam 
720p HD webcam with a privacy shutter
Graphics
Intel Iris Xe graphics
Keyboard
Backlit
Bluetooth
5.0
Touchpad
Microsoft Precision
Ports
1 USB C port
Power button
HDMI port
Audio jack
Charging jack
2 x USB 3.1 Gen1 ports
SD card reader
Batteries
57Wh Li-ion, up to 11 hours
Weight
1.7kgs (3.74 pounds)
Lenovo IdeaPad 5 Price and Availability
There are various outlets where Lenovo IdeaPad 5 is slightly different as this laptop is excellent for students due to its price range. It cost around 650 US dollars, whereas, in Nepal, it cost NPR 88,800.00.
| | | |
| --- | --- | --- |
| Lenovo IdeaPad Series | Price in Nepal | Availability |
| Lenovo IdeaPad 5 | NPR 88,000 | BigByte |