Lenovo Flex 14 is an entry-level yoga style device that allows you to use it in tablet mode and intent mode. And also, you can have this screen go back for a super big tablet. Flex 14 is the 14-inch version with many different configurations, including one that has an AMD Ryzen processor in it.
Lenovo Flex 14 Overview
Lenovo Flex 14 is a 5000 series laptop with AMD Ryzen 5 5000U processor having 14 inches with Full HD (1920 x 1090 resolution) and has a 16GB DDR4 RAM 256GB storage with a webcam of 720p HD. It is an affordable 2-in-1 convertible laptop having a 360-degree touch display, backlit keyboard, and fingerprint reader.
Design and Display
Lenovo Flex 14 is a 14 inches laptop made up of plastic and not metal. It has an excellent display. A prominent bezel is at the bottom that helps to rest a thumb when it's into tablet mode. It has 250 nit's brightness. The laptop has got 1.65kgs weight and possesses a fingerprint scanner on the laptop's deck. It is capable of some degree of gaming.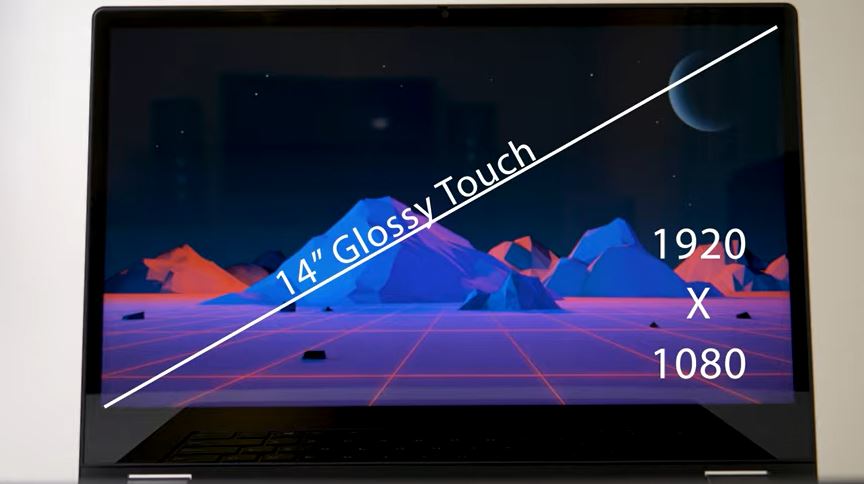 Internally not much is upgradeable. The only thing you can swap out is the Wi-Fi card and the m2 NVMe SSD. The laptop has got an air intake at the bottom that exhausts out the back.  There are two heat pipes integrated into this laptop, one fan to cool the CPU and GPU. Laptop also includes Lenovo's active pen S, which has a quad 8 battery and lasts for months.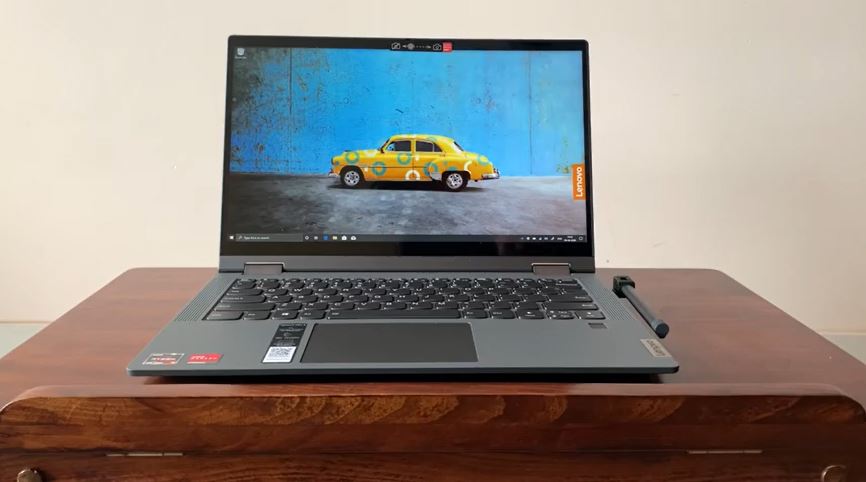 It has pretty well built, and you can flip it to 360-degrees right on the display as it has a multimode design where you can get the display to pretty much sit whatever position you put it in. Also, you can go all the way flat and flip it around and do all of the other two-in-one activities with it. The laptop design is clean and suitable for day-to-day activities such as browsing the internet or working on schoolwork, or even streaming content.
Ports and Slots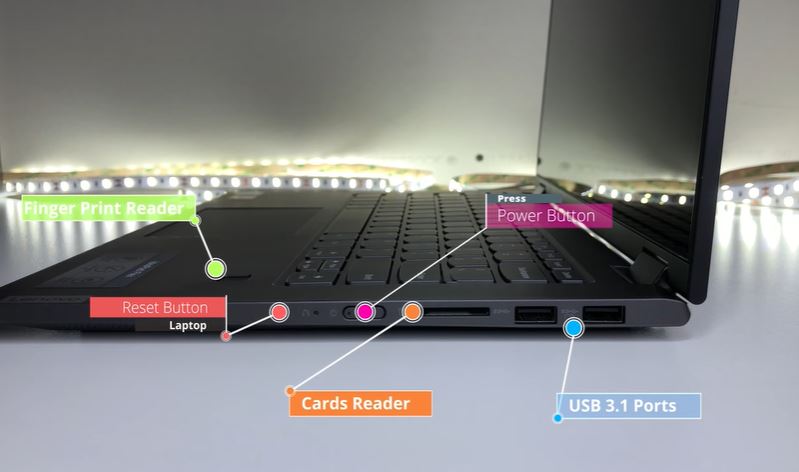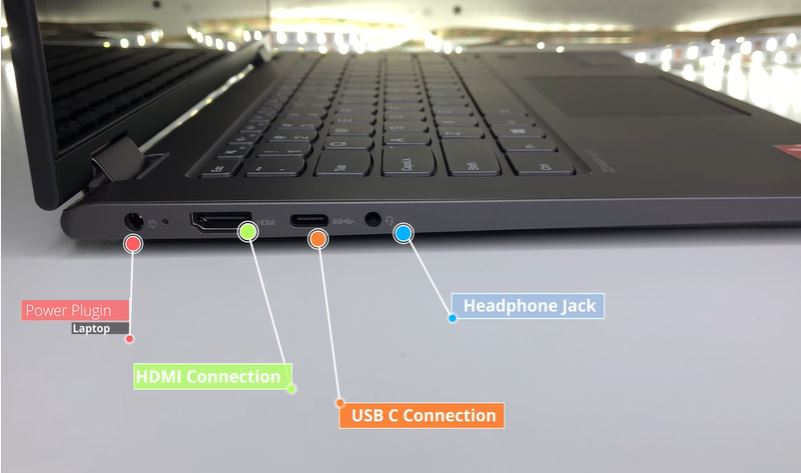 On the left, you have a power cord, a full-size HDMI port that comes in handy to connect to an external display; next to it is a USB type-c port, but this is only for data. It will not do video or power through that USB C port. So, you can plug in your keyboards and cameras and whatever else is transiting USB C data but again, not video and not power. So, it's not going to work with one of those single cable docks. After that, you have a headphone or a microphone jack.
On the right, two full-sized USB 3.1 ports. This port will charge your devices even when the computer is off, and you also have an SD card reader that takes full-size SD cards. It's suitable for transferring data, and also, you've got your power switch over there.
Webcam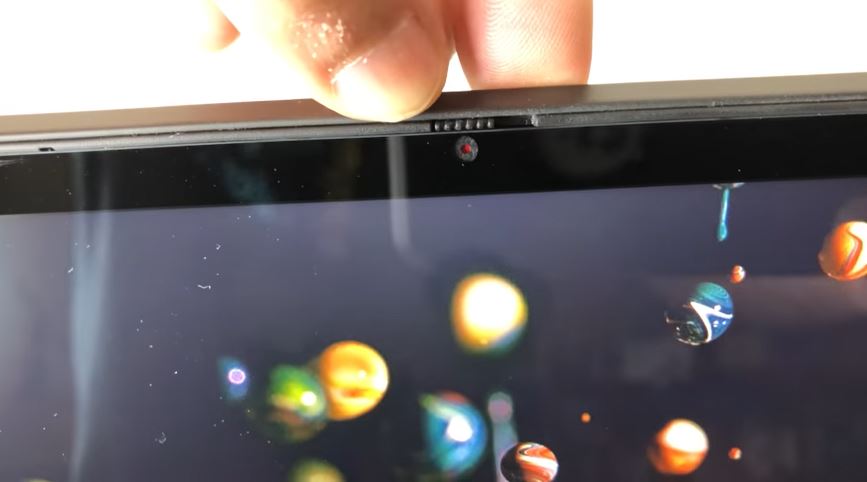 Webcam is integrated on the top, having 720p. On this device, there is one privacy feature. The webcam has a proper block privacy shutter at the top that permits you to close the webcam physically when not in use. This feature also helps to maintain privacy.
Keyboard and Touchpad
Lenovo Flex 14 has a backlit keyboard, and keys are well spaced apart. It also has a nice touchpad that is made of plastic. Some Flex 14 at the higher level also have a fingerprint reader for getting into the computer.
Performance
Lenovo has been taking giant steps in the right direction. The Lenovo Flex 14 with AMD's Ryzen 5 processor is a step in the right direction with a smart way to combine the power of AMD processor with excellent design and security. The laptop's memory is upgradable. If additional memory is needed, we can add it by moving the metal cover, which will expose memory game slots.
Audio
The laptop consists of stereo speakers, which are on the bottom. There's one on the left and another on the right. The speakers are great but are not super loud. If a broader range of sound is needed, you can use a pair of headphones or Bluetooth headphones.
Battery Life
Lenovo Flex 14 has a 52.5-watt-hour battery, and the battery life on this is pretty good that it has 8 hours range using an intelligent cooling profile before needing to charge. If you turn the display brightness down and focus on word processing or something like that, it helps to squeeze a little more out of it.
Lenovo Flex 14 Specifications
Lenovo Flex 14 has a Windows 10 Home Edition 64-bit operating system pre-activated and powered by AMD's Ryzen 5 5000U processor and 16 GB of RAM 256GB SSD. CPUs show the specification of the processor with 4 megabytes of L3 cache and have 8 gigs of memory installed and running in dual channel mode. Laptops RAM is upgradeable, and you can add additional RAM in case of need.
CPU
AMD Ryzen 5 5500U Processor
RAM
16 GB DDR4 RAM
Screen
14-inch Full HD (1920 x 1080 pixels) IPS
Glossy Touchscreen
250 nits
Anti-glare
Hard Drive
256 GB SSD
Webcam / Microphone
720p HD webcam &
dual digital array microphones
Graphics
Integrated AMD Radeon Graphics
AMD Integrated VEGA 8
Audio
Dolby Audio
2 x 2W speakers
Bluetooth
5.0
Dimensions (W x D x H)
12.66″ x 8.56″ x 0.7″-0.82″
Ports
2 x USB 3.1 Gen 15 (Type-A)
(one supports USB charging)
1 x USB 3.1 Gen 15 (Type-C)
HDMI
4-in-1 Card Reader
Audio Jack
Power switch
Batteries
4 Cell Li-ion; 52.5 WH battery, up to 8 hours
Weight
1.65kgs (3.65 pounds)
Lenovo Flex 14 Price in Nepal and Availability
Lenovo Flex 14 AMD Ryzen varies from store to store, and it is updated daily in Nepal. As of today's date, the laptop costs NPR 118,000 and is available via ITTI.
| | | |
| --- | --- | --- |
| Lenovo Model | Price in Nepal | Availability |
| Lenovo Flex 14 | NPR 118,000 | IITI |
Lenovo Flex 14 has decent performance, and it's a great-looking laptop as it has a pretty impressive battery life, a unique feature of blocking the camera to maintain privacy.