Google has just confirmed the second generation of its Nest Hub, the Google Nest Hub 2. It comes as a successor to the Google Nest Hub launched back in 2018. It brings an upgraded set of features like a Soli-powered sleep tracking feature, louder speakers, and more.
Google Nest Hub 2 Overview
Design and Display
The Google Nest Hub 2 has a very similar look to its predecessor, with a floating screen design. The display of the device is also the same one used in its predecessor. It is a 7 inch LCD touchscreen panel with a resolution of 1024 x 600 pixels. Thick bezels surround the screen with an edgeless design which Google claims makes the device easier to clean.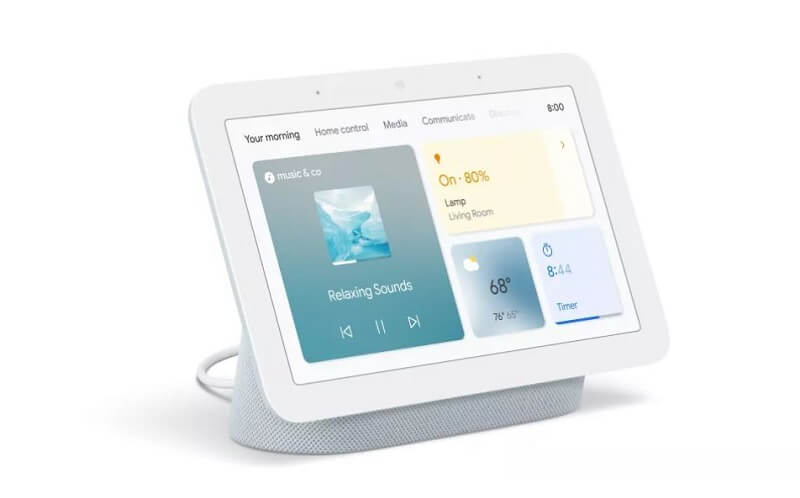 Sleep Tracking
The device comes with the Soli radar sensor technology, previously seen in Google Pixel 4 smartphone and Google Nest Smart thermostat. It can sense motion and so makes the basis for the sleep tracking feature of the device. With this technology, the device can track when you are asleep, awake, or absent from your bed without using a camera. The device is also able to monitor your breathing, coughing, or snoring while sleeping.
With the data collected, the device can also provide a personalized sleep schedule and suggestions based on your sleeping habits. It will also provide a daily report on the sleep detail and any interruptions you may have experienced through the night.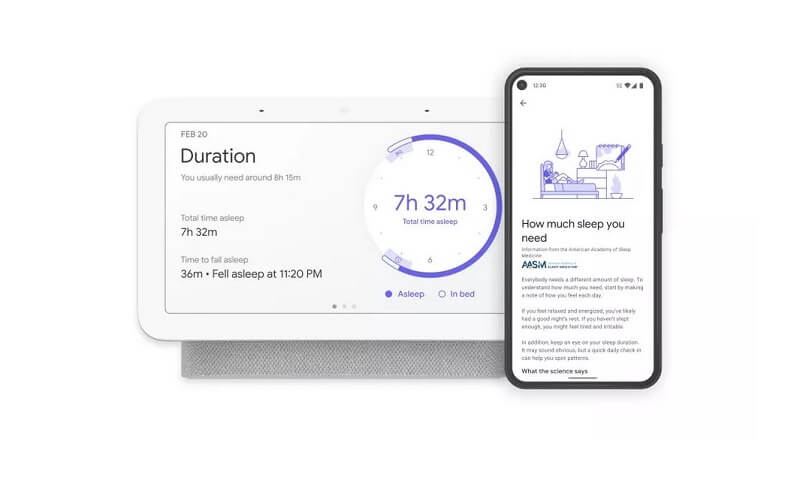 Better Audio
The Google Nest Hub 2 is the second generation device of the Google Nest Hub. It brings an upgrade over to its predecessor. While the first generation Google Nest Hub lacked powerful bass, the Google Nest Hub 2 has improved the audio aspect. Goggle claims that the device can produce up to 50% more bass than its predecessor provided by the 1.7-inch full-range speaker driver.
The device is compatible with various audio and video streaming services like Spotify, Youtube, Apple Music, and more.
Quick gestures
The Soli radar is not just helpful for tracking sleep, but it also enables quick gesture features similar to the Google Pixel 4. The quick gesture feature allows you to play and pause videos and music just by moving your hands in the air in front of the screen without actually touching it.
Other Features
Google has included the Thread network in the Google Nest Hub 2, which is a wireless smart home protocol that allows smart home devices from various manufacturers to work together without the need for any third-party services. It also supports Google Assistant with a built-in AI chip that makes the response time even faster.
Google Nest Hub 2 Specifications
| | |
| --- | --- |
| Display | 7 inch LCD touchscreen panel, resolution of 1024 x 600 pixels |
| Body | 4.7 inch x 7.0 inch x 2.7 inch (Hx Wx D), 558 grams |
| Chipset | 64-bit 1.9GHz AMR CPU with Quad-cores, Machine Learning engine |
| Audio | 1.7-inch Full range speaker driver, three microphones |
| Sensors | Soli sensor, temperature, |
| Connectivity | Dual-band Wi-Fi 802.11b/g/n/ac, Bluetooth 5.0 |
| Color Options | Chalk, Charcoal, Sand, and Mist |
Also Read:
Nepal Telecom Gets Approval for Mobile Money Service
Google Nest Hub 2 Expected Price in Nepal and Availability
The Google Nest Hub 2 is available for pre-order in select countries like the US, Canada, France, and Australia. It is officially priced at $99.99 in the US. The device is not expected to launch officially here in Nepal. However, we can expect the device to cost around NPR 15,000 if it launches via the unofficial channel.
| | | |
| --- | --- | --- |
| Google Smart Display | Price in the US | Expected Price in Nepal |
| Google Nest Hub 2 | $99.99 | NPR 15,000 |