Since the few e-commerce platforms like Sastodeal, Daraz have been doing their job amazingly, FataFat Sewa is the next big game in e-commerce. Launched on the New Year 2021, it is an online shopping platform that aims to get everything in one place. Since the ongoing pandemic has created many customers in e-commerce, FataFat has arrived to give a tough competition, making a good impression with its facilities.
Fatafat Sewa Overview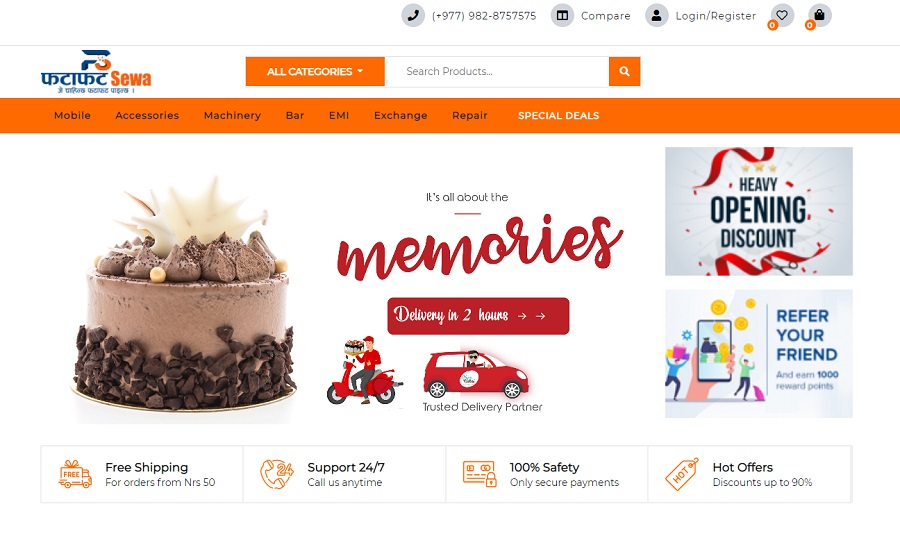 The online shopping platform aims to sell goods ranging from mobile phones, accessories to motorbikes. But unlike Daraz and Sastodeal, Fatafat Sewa seems to sell the products on their own without having any vendors responsible, which will be challenging for the team to handle the selling of the products. However, the website is still under construction, which may bring other changes.
Playstore Link: https://play.google.com/store/apps/details?id=com.fatafatsewa
App Store Link: Currently Not Available
Services provided by the Fatafat Sewa
They are having the first step in e-commerce that too, where others have already marked their customers' spaces, will be challenging. To level up with the competitors, it has to come with more attractive services. In that situation, Fatafat Sewa has done much work giving the tough competition by providing the various services absent in the existing e-commerce. Let's have an in-depth look at the services available.
Mobile insurance
The Fatafat Sewa will provide free mobile insurance covering breakage insurance, loss and theft, fire and water damage, and accidental heath insurance. Ajod Insurance's mobile insurance scheme will be handling the insurance, of amount NPR 100,000 on all purchases of mobile.
Instant VAT refunds
For the 13% VAT that you pay to purchase any accessories on the platform, you get a 10% tax refund when making an online payment. This VAT refund service is quite impressive.
0% EMI service on a gadget like mobiles and laptops
Another eye-taking service, 0% EMI service on gadgets, will help many people who are in serious need of gadgets but have a low budget as the scheme is to pay for a gadget in the long term without paying interest. For this, Fatafat Sewa has partnered with the following banks until now:
Machhapuchhre Bank Ltd.

Century Bank Ltd.

Sunrise Bank Ltd.

Siddhartha Bank Ltd.

Nabil Bank Ltd.

NIC Asia Bank Ltd.

Mega Bank Ltd.

NMB Bank Ltd.

Citizen Bank Ltd.

Global IME Bank Ltd.
Discount via partner payments
It has partnered with eSewa, CellPay, and FonePay so that when you make the payment of the purchase through them, you get up to a 15% discount. Also, you get the bonus of Rs.500 on referring others to Fatafat Sewa.
Mobile Exchange, Mobile repair, Home delivery, Pickup and Drop 
You don't have to wait for the exchange offers to arrive now; you can exchange the mobile in the Fatafat Sewa. Services like mobile repair, home delivery, pickup, and drop services are also available.
Conclusion 
Looking at the Fatafat Sewa services, we can conclude, new e-commerce has arrived to give a healthy competition to the existing one. The services mentioned are more in favor of the consumers, which will indeed have a great image among the users of e-commerce. The website, which is still under construction, may also bring other services that are not introduced in other e-commerce yet.