Highlights:
eSewa is offering free bank transfer service to its users
Users can now transfer funds to their bank account free of charge
This offer is valid till 31st Asadh and available for 3 times per day
Starting today, eSewa is providing free bank transfer service to its users till the end of Ashadh. The company announced that users could transfer money to their bank account free of service charge. The offer will last till the 31st of Asadh, 2078. After the offer ends, thigh might be some transfer charge fees like before, which usually costs Rs. 20 per transaction.
eSewa Bank Transfer Free of Cost
eSewa is Nepal's biggest digital wallet platform which provides various digital transaction services. It allows to transfer money between two users in the platform and service to transfer money directly into the bank. Using the Bank Transfer feature, you can transfer any amount of money from your digital wallet to your personal bank account.
Presently, there are 48 Bank and Finance Institutes (BFIs) linked with eSewa. Users can transfer amount to any of the branches of the available banks using the 'Bank Transfer' feature. The transfer limit is Rs 5000 for general users. You can exceed the limit by verifying your KYC. KYC verified users can transfer up to Rs 25,000 at a time and up to Rs 5,00,000 in a month. The transfer rate is limited to 3 times per day.
How to use Bank Transfer feature in eSewa?
It only takes few simple steps to transfer the amount from your eSewa wallet to any other bank account.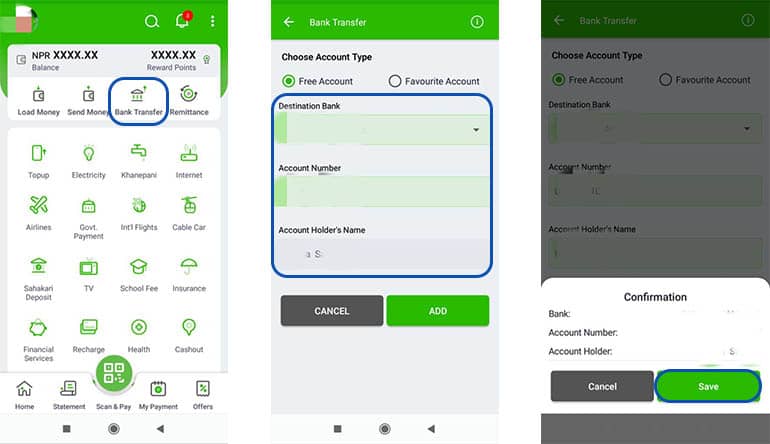 Log in to your eSewa ID and click on the Bank Transfer option on the top of Home page
Next, you need to select the bank you want to transfer the amount in a dropdown option Destination Bank. Also add the account number and full name of the recipient.
Then Click on Save to confirm the entered details. Here, the app will verify the receiver's bank account.
After the final confirmation, you can transfer the amount to the recipient's bank account within the Bank Transfer option. The receiver will get a message informint about the transaction.
Verdict
This new offer is an approach to encourage people to use digital payment and transactions. eSewa is a leading Fintech platform of Nepal and has a wide network of 50+ bank partners, 150,000+ merchant networks and 105,000+ agents. It keeps bringing new offers, occasionally expanding its services all over the country. The free bank transfer service can help users save up to Rs 50 while transferring the funds to the banks. More importantly, digital transactions prevent physical visits to the bank during the ongoing pandemic.