Highlights:
United Nation's world investment report 2021 mentions China investing $1 billion for an upcoming project in Nepal
The investment is reported to be used for building mobile data network in Nepal
There have been no detailed announcement or confirmation from any side of the nations' authority
Recent data from United Nation's world investment plan 2021 has reported that China Mobile will be investing USD 1 Billion in Nepal's telecommunication sector. China Mobile is a leading company in the telecommunication industry of China. There hasn't been much disclosure about the project. However, some speculations suggest that the company will use the fund to build a mobile data network in Nepal.
China Mobile Investment in Nepal
United Nations Conference on Trade and Development (UNCTAD) recently issued the World Investment Report for 2021. The report also includes China Mobile's plans to establish a mobile data network in Nepal. This investment might be a part of China's other larger project since the Chinese government has proposed some transcontinental development initiatives.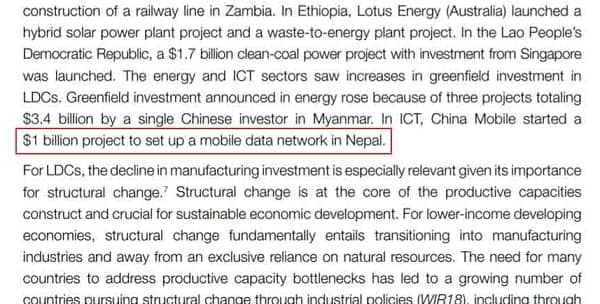 According to the report, the project is listed in the ICT sector and has already been strtead. Although, neither the Chinese Officials have mentioned anything about this project nor the Nepali authorities have given confirmations. Sushil Bhatt, the chief executive officer of the Investment Board Nepal, suspects the project to be on its early and expect to soon arrive on authority's hand.
Possible Chinese Projects in Nepal
In 2017, the Chinese telecom company had published a report titled 'Connecting The New Era'. As explained in the report, the telco wanted to expand the required broadband infrastructure to connect different nations like Nepal, Pakistan, Tajikistan, and Myanmar, laying cross-border optical fiber. Considering China is spreading its broadband efficiency around the globe, we can expect its Nepal investment to be part of the broader goals.
China Mobile had made a commitment on a transcontinental 'Belt and Road Initiative'. In the 'Belt and Road initiative', the company promises to establish 29 Information Station (Internet service Access Point-PoP) in the countries that are part of the Initiative. So the investment could possibly be a part of this project. Moreover, China Mobile will also facilitate building International Communication and Information Exchange in the region.
Conclusion
At this stage, there is no details or confirmation related to this significant Nepal-China project. However, the ongoing speculations can be a big hint for investment by China in any of its upcoming projects. We look forward to getting more information from the authorities soon.